Wieringo and Dezago's Tellos Aren't Originally an X-Men Comic Book Idea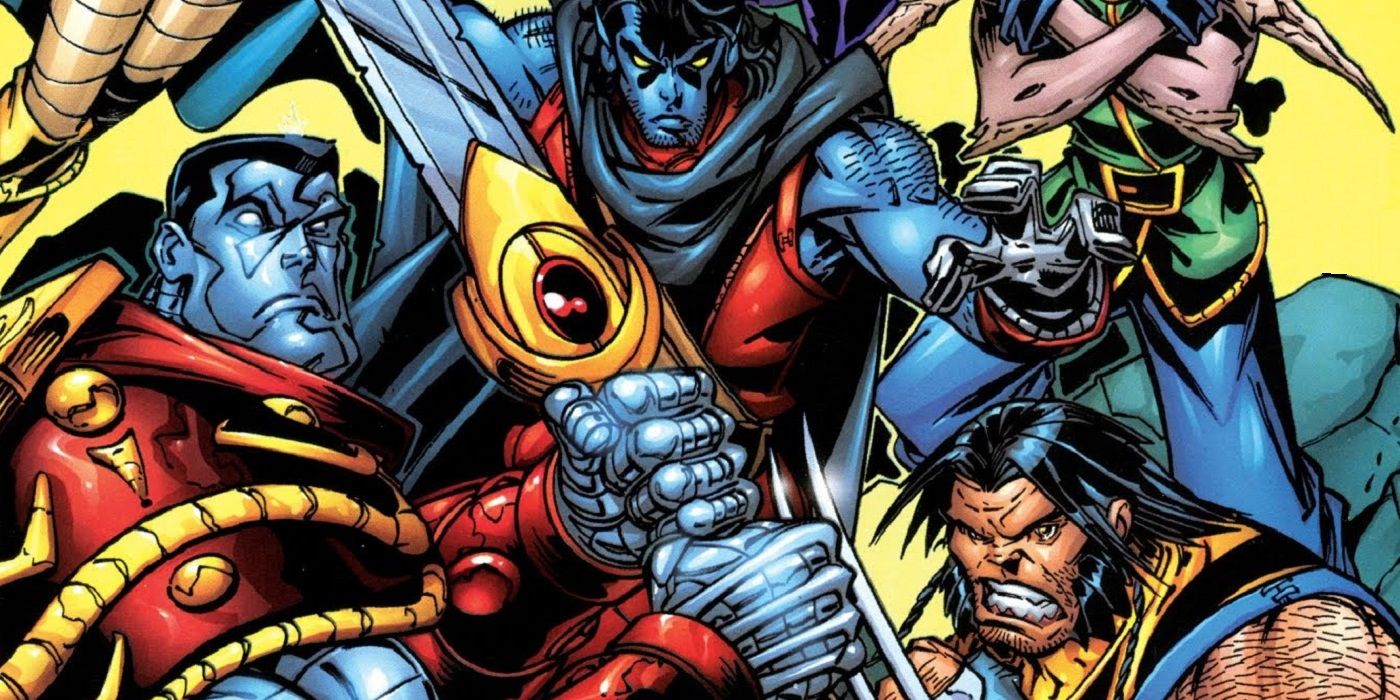 In the latest Comic Book Legends Revealed, find out if Mike Wieringo and Todd Dezago tellos was born as an X-Men comic book story idea
Welcome to Comic Book Legends Revealed! This is the eight hundred and fifty-first installment where we examine three comic book legends and determine if they are true or false. As usual, there will be three posts, one for each of the three captions. Click here for the first caption in this episode of All Captions by Mike Wieringo. Click here for the second caption of this all-'Ringo episode.
NOTE: If my twitter page reached 5,000 subscribers, I'll be doing a bonus edition of Comic Book Legends Revealed that week. Good deal, right? So go follow my Twitter page, Brian_Cronin!
COMIC CAPTION:
The series owned by the creators of Mike Wieringo and Todd Dezago, telloswas born from an X-Men story idea.
STATUS:
Fake
A very, very common thing in the world of comics is to take an idea that was intended for one property and adapt it entirely to something else. I've covered quite a few over the years, from Marc Silvestri's Cyberforce, which he described as:
I went to New York for the big X-book meeting. Bob Harras was the editor who brought us all together. Rob Liefeld was there, Peter David was there, and we were in a conference room talking about the direction of the X-Men books. In this piece, I pitched the idea of ​​Cyber ​​Force to Bob Harras as a spin-off book from the X-Men, which explains many of the similarities between Cyber ​​Force and the X-Men. I wanted my own book, Jim Lee had just had success with "X-Men" #1 and the spinoffs were going all over the place. I had started a "Wolverine" spin-off, and it wasn't going anywhere because they were doing something with Weapon X. Rob would later tell me he wanted to kick me under the table because that he already knew Image Comics and was thinking, "No, no, no, don't tell them. Keep that. That would be great for Image."
to, famously, JM DeMatteis' idea for a Batman/Joker story that he pitched to DC, "but they ended up turning it down because they had other plans for the Joker.
DeMatteis therefore changed the play, this time making Hugo Strange the villain of the play. This approach was also rejected. Not wanting to let a good idea fall into disrepair, DeMatteis pitched the idea to Marvel, only now rephrased to Spider-Man and the villainous Kraven. So we had Kraven's Last Hunt (with art from the amazing Mike Zeck), where we see what Kraven would do next if he actually "kills" Spider-Man (here's a hint – it doesn't end well for Kraven). The story, which Marvel cleverly spread across the three monthly Spider-Man books of the time (which gave the story a bit more of an "event" feel), was a big hit, both both critically and commercially."
So it's not at all hard to believe when reader Sam K. wrote in to ask if the excellent creator-owned series, tellosby the late great Mike Wieringo and the equally great Todd Dezago, began life as x-men cartoon idea.
So… did you?
RELATED:How a conflict over two filler issues kept the Waid/Wieringo Fantastic Four going
The answer is no, but the X-Men DID played a role in the idea behind tellosin a certain way.
In 1998, Dezago, Wieringo and inker Brad Vancata made a delicious x-men #1/2 for Marvel via Wizard Magazine.
The issue apparently featured an alternate reality version of the current X-Men lineup, but set in a fantasy world…
Wieringo has really made some great designs…
In the end, it was all Mesmero playing with them, and they were all still in their time…
RELATED: The Spider-Man/Fantastic Four Team Up That Was a Tribute to a Great Marvel Artist Who Laid
Well, in a great conversation between Dezago and Wieringo who composed TwoMorrows Modern Masters: Mike Wieringo"Ringo explained how the X-Men issue played a role:
Dezago: So how was Tellos born?
Wieringo: The short answer is that Tellos was born out of a marathon phone call we had one day. The long version is that the seeds for what became Tellos were planted during our experience working on the aforementioned X-Men #1/2. It ostensibly placed the X characters in a fantasy setting, and it turns out that we're both fantasy fans. We started talking about fantasy novels and comics we had read, and over a very long conversation, we came up with a premise that ended up being Tellos.
So there you go, Sam! It wasn't literally an X-Men idea that evolved into tellosbut the X-Men DID played a part in all of this!
DISCOVER A TV LEGEND REVEALED!
In the latest TV series Legends Revealed – Find out how Debbie Allen fought to save Lisa Bonet from being fired from A Different World.
MORE LEGENDS!
OK, that's it for this episode!
Thanks to Brandon Hanvey for the Comic Book Legends Revealed logo, which I actually don't even have anymore, but I used it for years and you still see it when you see my old columns, so that's fair enough to thank him again, I think.
Feel free to (hell, please!) write in with your suggestions for future installments! My email address is [email protected] And my Twitter feed is http://twitter.com/brian_cronin, so you can also ask me for captions there! Also, if you have any correction or comment, feel free to email me as well. CBR sometimes emails me with emails they receive about CBLR and that's fair enough, but the fastest way to get a fix is ​​to just email me directly, honestly. Corrections don't bother me. Always better to get things accurate!
This is my most recent book, 100 Things X-Men Fans Should Know And Do Before They Diefrom Triumph Books.
If you want to order a copy, order it here gives me a referral commission.
This is my second book, Why does Batman wear shark repellent? The cover is by Kevin Hopgood (the man who designed the War Machine armor).
If you want to order a copy, order it here gives me a referral commission.
Here is my comic book legends (130 legends. — half of them are reworked classic legends that I featured on the blog and the other half are legends never published on the blog!).
The cover is by the artist Mickey Duzyj. He did a great job on it…
If you want to order it, you can use this code if you would like to send me a bit of a referral fee.
Follow Comics Should Be Good On Twitterand on Facebook (Also feel free to share Comic Book Legends Revealed suggestions on our Facebook page!). Not only will you receive updates when new blog posts appear on Twitter and Facebook, but you'll also get original content from me!
See you next time!!