Why Thunderbolt Ross Had A Portrait Of A Mushroom Cloud Above His Chimney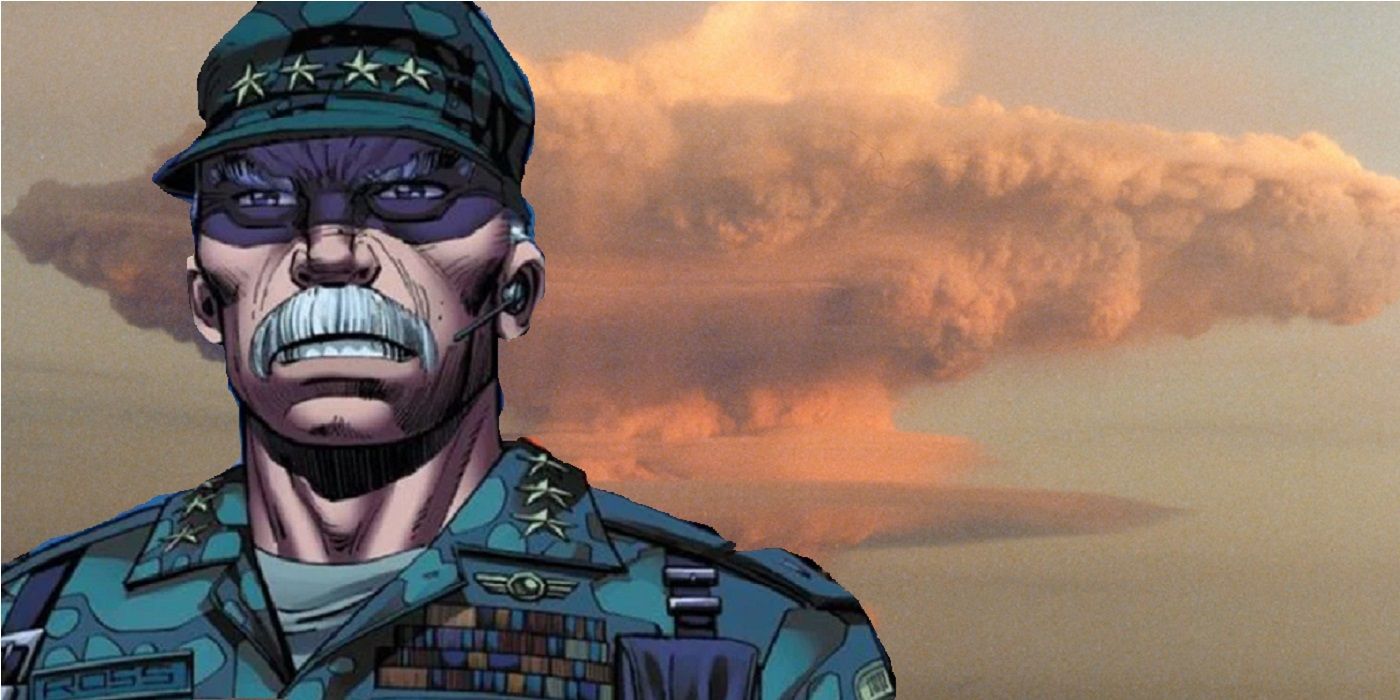 In the latest Comic Book Legends Revealed, find the surprising inspiration of Thunderbolt Ross having a mushroom cloud portrait above his fireplace.
Welcome to Comic Book Legends Revealed! This is the eight hundred and thirty-ninth installment where we examine three comic book legends and determine if they are true or false. As usual, there will be three posts, one for each of the three captions. Click here for the first part of this episode's captions. Click here for part two of the captions from this episode.
NOTE: If my twitter page reached 5,000 subscribers, I'll be doing a bonus edition of Comic Book Legends Revealed that week. Good deal, right? So go follow my Twitter page, Brian_Cronin!
COMIC CAPTION:
Roy Thomas specifically had a portrait of a mushroom cloud above the chimney of Thunderbolt Ross based on a Colonel he once met.
STATUS:
True
It's funny. This one completely moved away from me. You see, at the start, my friend Chris Nowlin wrote to me to say that great inker (and comic book historian) Bob Almond had pointed out on the Marvel a Day Facebook group (sounds like a fun group. Someone should invite me!) that he there is a little bit strange in The Incredible Hulk #124 which was somewhat confusing, so Chris wanted my opinion on that. Let me fix the problem first, and then I'll explain how I almost got it wrong.
It's quite fascinating how often new status quos have been introduced and abandoned within the pages of Incredible Hulk. In The Incredible Hulk #123 (by Roy Thomas and Herb Trimpe), Bruce Banner and Reed Richards teamed up to seemingly cure Bruce Banner from being forced to become the Hulk, but the cure had a second added benefit – it wouldn't stop Bruce from being NEVER the Hulk, he could earlier CONTROL the transformation…
However, while battling Leader AS the Hulk later in the issue, Bruce almost lost control and killed the Leader, so he swore never to be Hulk again…
RELATED: What Role Was Thor Originally Going to Play in Avengers Disassembled?
In the next issue (Sal Buscema inks now Trimpe), Bruce, now free from his Hulk persona, proposes to Betsy Ross and her father, Thaddeus "Thunderbolt" Ross, who had previously stalked Banner as the Hulk, is now ready. not only welcomes Bruce into the family, but he even offers his house, the place where Betsy grew up, as the wedding venue…
This being a superhero comic, however, the nuptials are interrupted by that jerk, the Chief, who blasts Banner with a special ray gun of the Chief's invention…
and it turns Banner into the rampaging Hulk, sad day for everyone (except the bad guys, I guess)…
Okay, but here's the funny thing that Bob pointed out and Chris then shared with me. Earlier in the issue, as the wedding begins, check out the background behind the minister – Ross has a picture of a mushroom cloud on his coat!
Why does he have such a thing on his COAT?
RELATED: Did Long Halloween's Ending Change After a Magazine Article Guessed the Killer?
That was the question Chris asked me and I immediately assumed the answer would have been with the late Herb Trimpe. Herb was a great guy and was quick to respond whenever I had a question, but sadly he passed away seven years ago. So I thought there was no REAL answer, which gave me a funny idea. I would contact some of the best writers I know who wrote the history of Thunderbolt Ross and ask them what their explanation was for Ross having such a portrait in his home. Lots of writers were willing to play along and thanks a lot to guys like Al Ewing, Gerry Duggan, Jeph Loeb and Daniel Way for responding.
However, I also wrote to Roy Thomas, who scripted the issue, and it turned out there was a "real" response for the portrait, as it was ROY who had specifically ASKED Trimpe to do it. to design ! Roy explained:
Around 1963, I befriended a recent college graduate (and future lawyer, I believe) named Bob Barney, whose mother was Puerto Rican and whose father was Colonel Barney, who in the 1960s had been responsible for what was called "the air". weather" for the famous H-bombing on Eniwetok Atoll. In 1963 he was in charge of a major USAF base in Illinois…was it Scott? I forget the name, but it was about an hour's drive from the St. Louis area Bob invited me to come with him to visit his dad for a weekend, staying at the lavish home that he and his second wife had on base Colonel Barney was an affable soul in his own way, but was also almost a caricature of the senior career military officer, who spoke in terms of mega-deaths (like Buck Turgid in "Strangelove", about a nuclear exchange: "I'm not saying we wouldn't have our hair disheveled. But that would be 20 or 30 million dead, up there!") and "there are red ants and there are has black ants, and they're always going to fight" and regularly referring to various political figures, like Avriel Harriman, as traitors. But the most memorable thing about the weekend was the moment I walked through her front door and saw, in the large living room, above a brick mantle, a huge, beautifully framed – of that H-bomb explosion of the 1960s. Obviously, Colonel Barney was proud of his work in that atomic test…and I'm not saying he should have been ashamed of it, but of somehow a photo of it over the coat might have seemed a little over the top. So when it came time for the wedding at Thunderbolt Ross, I had Herb Trimpe draw this painting…although I don't think it's as big in the comics as it is in real life. Naturally, we received letters from a few people saying that we had gone overboard with this bit of decorating, and that no one in a military command would actually do such a thing. Not for the first time, the critics were wrong.
Like I told Roy, it's an amazing story!
Many thanks to Roy Thomas for this awesome piece of comic book history and thanks to Al Ewing, Gerry Duggan, Jeph Loeb and Daniel Way for agreeing to play before I had a "real" answer!
DISCOVER A TV LEGEND REVEALED!
In the latest TV Legends Revealed – Was there almost an animated TV series in the 1980s based on…Michael Jackson's pets?!
MORE LEGENDS!
OK, that's it for this episode!
Thanks to Brandon Hanvey for the Comic Book Legends Revealed logo, which I actually don't even have anymore, but I used it for years and you still see it when you see my old columns, so that's fair enough to thank him again, I think.
Feel free to (hell, please!) write in with your suggestions for future installments! My email address is [email protected] And my Twitter feed is http://twitter.com/brian_cronin, so you can also ask me for captions there! Also, if you have any correction or comment, feel free to email me as well. CBR sometimes emails me with emails they receive about CBLR and that's fair enough, but the fastest way to get a fix is ​​to just email me directly, honestly. Corrections don't bother me. Always better to get things accurate!
This is my most recent book, 100 Things X-Men Fans Should Know And Do Before They Diefrom Triumph Books.
If you want to order a copy, order it here gives me a referral commission.
This is my second book, Why does Batman wear shark repellent? The cover is by Kevin Hopgood (the man who designed the War Machine armor).
If you want to order a copy, order it here gives me a referral commission.
Here is my comic book legends (130 legends. — half of them are reworked classic legends that I featured on the blog and the other half are legends never published on the blog!).
The cover is by the artist Mickey Duzyj. He did a great job on it…
If you want to order it, you can use this code if you would like to send me a bit of a referral fee.
Follow Comics Should Be Good On Twitterand on Facebook (Also feel free to share Comic Book Legends Revealed suggestions on our Facebook page!). Not only will you receive updates when new blog posts appear on Twitter and Facebook, but you'll also get original content from me!
See you next time (in this particular case, "next time" is in a few hours)!
Did DC once make a comic called Teen Beat without knowing it was already a magazine?
Read more
About the Author