Werewolf Comic stopped using them because the artist didn't like drawing them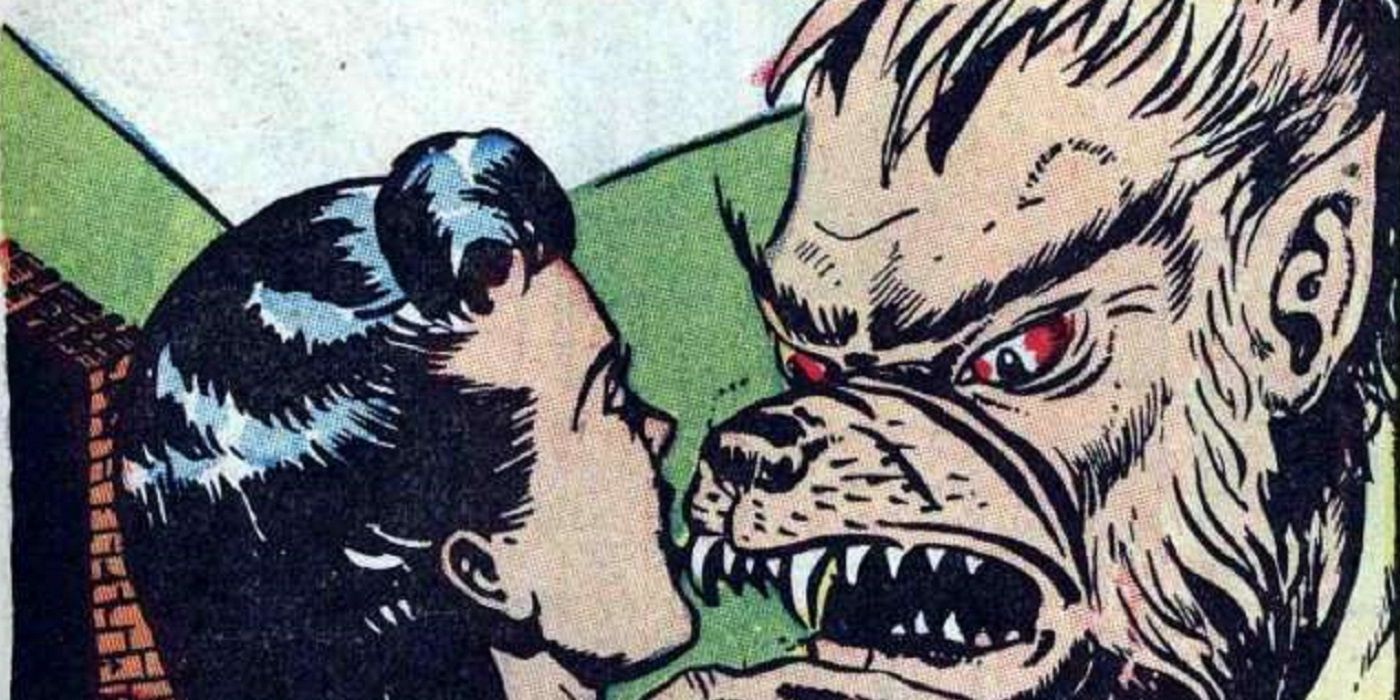 In the latest Legends Revealed comic, find out how a Werewolf Hunter comic stopped having werewolves because the artist didn't like drawing wolves
Welcome to Comic Book Legends Revealed! This is the eight hundred and fifty-second episode where we take a look at three comic book legends and determine if they are true or false. As usual, there will be three posts, one for each of the three captions. Click here for the first caption of this episode. Click here for the second caption of this episode.
NOTE: If my twitter page reached 5,000 subscribers, I'll be doing a bonus edition of Comic Book Legends Revealed that week. Good deal, right? So go follow my Twitter page, Brian_Cronin!
COMIC CAPTION:
When Lily Renée started drawing the feature film "Werewolf Hunter" for Fiction House, she asked if they could stop talking about werewolves, because she didn't like drawing wolves.
STATUS:
True
I recently wrote an obituary for Lily Renée, a pioneering comic artist who recently passed away at the age of 101. they made it possible to write and draw comics and suddenly women had a real chance to work in comics and Fiction House was one of the leading comic companies in terms of hiring female artists at from around 1943.
Fiction House was notable in that, for the most part, it never REALLY got into the superhero business like other companies of its day. FIction House was one of the pulp fiction companies that switched to comics when comics boomed, but unlike its rivals, Fiction House primarily adapted its pulp sensibilities to comics.
No one could ENTIRELY avoid superheroes during this time, however, but it's fun to see how Fiction House would dip its waters into this territory and then back off right away. One of his main titles was fight comicswhich featured heartbreaking action stories…
Early on, he started trying superheroes in comics, like Power Man…
but then quickly gave it up and returned to direct action…
When patriotic superheroes became popular, Fiction House tried one, Super-American…
but then quickly relegated it to the background (while continuing to make new super-American features)…
Similarly, the years 1941 freedom rangers No. 1 definitely looked more like the other patriotic superheroes of the time…
but by number 8, had become Rangers comics and was no longer centered on superheroes…
As part of its revamp with #8, it launched a new feature called "The Werewolf Hunter".
RELATED: Did DC Know When Bob Kane Stopped Drawing Batman Comics All Together?
I have no idea who wrote "The Werewolf Hunter", but Gustav Schrotter drew the first story, and, well, his werewolf was… a little weird…
A young George Tuska drew the second feature "Werewolf Hunter" in the next issue and his werewolf was even weirder…
Saul Rosen took over for the next issues and he had a much more normal looking werewolf…
With issue 13, Lily Renée took over the feature film, but she had a little problem… she didn't like drawing wolves!
RELATED:What new superhero name did Marvel almost give She-Hulk in the 1980s?
Lily Renée explained the situation to Trina Robbins in Robbins' brilliant 2006 interview with Renée in The comic book newspaper:
"Eventually they tried me on a feature, which was one that no one wanted to do: 'Werewolf Hunter'. I did something else about it because I didn't want to draw wolves. I spoke to the writer and I convinced him that it should be about magic, where people turn into other creatures, not werewolves. So we did that, and it became very popular.
Its first number, Rangers comics #14, involved a witch…
They were great comics, like the next issue, but not werewolves despite being the werewolf hunter throughout the series…
In Rangers comics #16, they had at least three wives…
who turned into kittens…
Rangers comics Issue #19 was the only issue to include an actual werewolf story, but look how few wolf drawings Renee did in the issue. The professor has a bunch of children without their mother, so she comes in the form of a wolf!
They are later seen as wolves, themselves, but from afar, where Renée didn't have to draw much!
Too funny.
Damn, Renee was a brilliant artist.
DISCOVER A FILM LEGENDS REVEALED!
In the latest Movie Legends Revealed – Find out how a cigarette company actually had some sort of creative control over the plot of Superman II!
MORE LEGENDS!
OK, that's it for this episode!
Thanks to Brandon Hanvey for the Comic Book Legends Revealed logo, which I actually don't even have anymore, but I used it for years and you still see it when you see my old columns, so that's fair enough to thank him again, I think.
Feel free to (hell, please!) write in with your suggestions for future installments! My email address is [email protected] And my Twitter feed is http://twitter.com/brian_cronin, so you can also ask me for captions there! Also, if you have any correction or comment, feel free to email me as well. CBR sometimes emails me with emails they receive about CBLR and that's fair enough, but the fastest way to get a fix is ​​to just email me directly, honestly. Corrections don't bother me. Always better to get things accurate!
This is my most recent book, 100 Things X-Men Fans Should Know And Do Before They Diefrom Triumph Books.
If you want to order a copy, order it here gives me a referral commission.
This is my second book, Why does Batman wear shark repellent? The cover is by Kevin Hopgood (the man who designed the War Machine armor).
If you want to order a copy, order it here gives me a referral commission.
Here is my comic book legends (130 legends. — half of them are reworked classic legends that I featured on the blog and the other half are legends never published on the blog!).
The cover is by the artist Mickey Duzyj. He did a great job on it…
If you want to order it, you can use this code if you would like to send me a bit of a referral fee.
Follow Comics Should Be Good On Twitterand on Facebook (Also feel free to share Comic Book Legends Revealed suggestions on our Facebook page!). Not only will you receive updates when new blog posts appear on Twitter and Facebook, but you'll also get original content from me!
See you next time!!