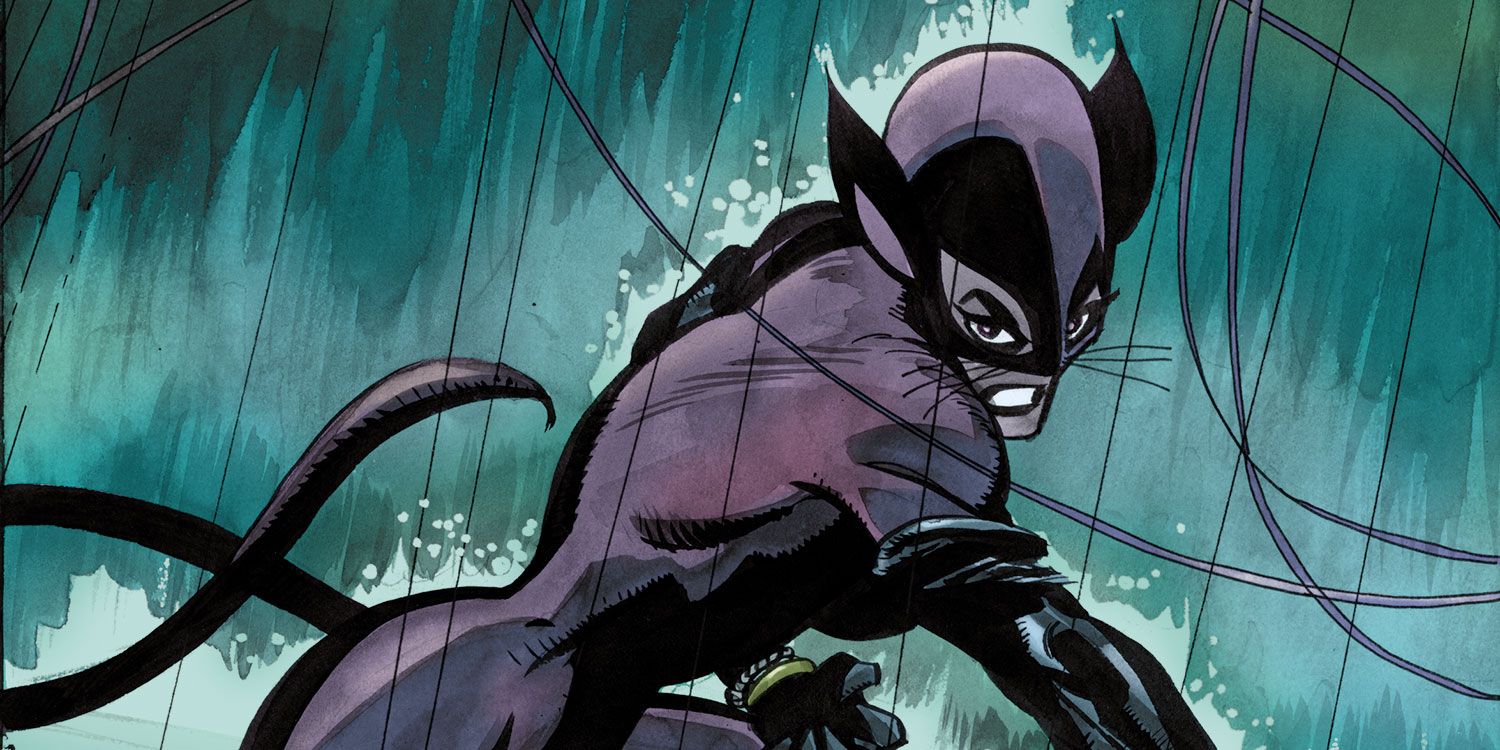 The concept is this – for the Ides of March, I tell you things that ID have done in some comics!!
But don't worry, I'm not talking about simple 20/20 retrospective things like picking out a bad famous story and just saying, "I wouldn't have done that" or "You know that cool character? I wouldn't have killed him.
No, I mean more like adjustments and nudges, stuff like that. No major changes. Also, don't repeat my old Ids, because it's too easy!
You can verify past years to see what I'm talking about, or just read on! I also asked my fellow CBR writers (and a bit of a weird guest star) if they'd like to share some of their Ids, so I'll mix them up there too!
I DO CATWOMAN CARMINE FALCONE'S DAUGHTER IN THE COMIC
This is a total cheat, of course, since I've literally made a column about it in the past in my "Winds of Change" column (for retcons I wish it happened), but I don't know no, I think it's still worth noting.
I DO SCARLET WITCH AND MAGNETO FATHER AND DAUGHTER AGAIN
Also a repeat but when I went to the link to the Winds of Change column I noticed it was a different one and honestly can't believe it still hasn't been resolved. Magneto's Trial seemed like the 100% clear place to do the reveal, right? And yet it was not done! How is it still not fixed? Fix it already!
I WILL REMEMBER THE FUTURE AVENGERS OF THE CHILDREN'S CRUSADE
This one is from CBR's Nicholas Howe. I would bring back the Avengers and Dark Avengers teams that were teased in the mid-2000s, like The Runaways and Young Avengers. They teased some interesting line-ups that weren't the same 6-7 members all the time. Plus, most of these characters have aged into adulthood, so now's a great time to bring them into the Avengers, not just the spin-off teams like Avengers Idea Mechanics and A-Force.
I'D LOVE RICK AND MORTY TO MAKE A COMIC BOOK CROSSOVER
It really seems like the rick and morty comics would be the easiest way to do all sorts of comic crossovers with the characters, right? It reminds me of how the Mask character has had all kinds of comic book crossovers over the years. Imagine Marshal Law versus Rick and Morty!!
I'D HAVE ANOTHER THING SERIES BY WALTER MOSELY AND TOM REILLY
I completely understand that Mosely now really wants to commit to continuous work Thing series, but man, we could really use a series of Thing miniseries from him and the great Tom Reilly. It would be fun if he just picked different points in Fantastic Four history and went from there.
READ: March 2021 I'ds!
I MAKE MAESTRO THE NEW THANOS
This one is from CBR's Brenton Stewart, which I came true last year, so maybe this one will be too! I would make the Maestro the next Thanos. He's always been a fantastic villain and his latest solos detailing his origins do more. But everyone loves a good Hulk fight – why not give them a really evil Hulk fight? We NEED a World War Maestro.
I WOULD LOVE KELLY THOMPSON TO WRITE LEGION OF SUPERHEROES
My friend Jude told me about it the other week and it really is a brilliant idea. Kelly Thompson was INCREDIBLE writing Jem and the holograms with its diverse and expansive cast and it's exactly the kind of thing that would be perfect for the Legion of Super-Heroes! What a perfect fit for a writer and a series that would be!
I WOULD RETURN THE WEBSPINNERS FORMAT, BUT WITH BIGGER NAMES
Don't get me wrong, I understand it's VERY hard to maintain the level of quality I'm talking about here, but Legends of the Dark Knight maintained at that level for, like, five years, so I don't think it's too crazy to suggest that maybe we could revisit the web spinners notion (you know, Legends of the Dark Knight for Spider-Man) with bigger names. As Legends, this might be a chance for people who might just have a Spider-Man story to tell that story. Now, it might be fair to say that in the modern comic book industry, it makes more sense to make them all individual miniseries, so okay, but how about some sort of of web spinners umbrella line with these series of a mini-series? The JJ Abrams/Henry Abrams/Sara Pichelli series could have belonged to this line of comics.
I'M MAKING A NEW SUPER SONS SERIES BY TOMASI AND GLEASON
This one is from CBR's Danny McMahon. I would give Peter Tomasi and Patrick Gleason full creative control of an ongoing project SuperSon series.
I'M MAKING A MARVEL VERSION OF KNIGHTS OF STEEL
I liked this idea so much that I made it a Line it a Drawn theme a while ago. steel knights is such a fun concept that it would work really well if it were made at Marvel as well. It's a very "elastic" concept, so to speak. Marvel's medieval characters would totally rock (this avengers Busiek and Perez's arc with the Medieval Avengers was fun).
READ: March 2020 I'ds!
I WOULD RETURN SOME OF BLUE BEETLE'S SUPPORT CASTLES
As I detailed in an article a while ago, Len Wein introduced quite an interesting supporting cast for Ted Kord in Chicago in his blue beetle series in the 1980s and when the series ended, we never saw them again. Ted Kord didn't have many love interests, so it's a shame we can't see Melody Case again from this series, as she was a strong love interest.
I'M AGAIN TELLING STORIES FROM JESSICA JONES' "ALIAS" ERA
This one is courtesy of my wife. I'd use the multiverse (or just a little "five years ago" magic) to continue Brian Michael Bendis' Jessica Jones "Alias" era. The series had a great ending, but there was so much more to this version of Jessica Jones who isn't the wife of a superhero and the mother of a toddler.
I WILL GIVE MARK RUSSELL A SUPERMAN COMIC IN PROGRESS
I could have sworn I had used it in the past, but I couldn't find it, so, well, here it is! Mark Russell has totally proven that he would excel when given the chance to do a great ongoing superhero series and his Future State: Imperative Lex The miniseries was great and I would love to see him do an ongoing Superman series.
I WOULD DO GWEN STACY SPIDER-WOMAN AGAIN
I understand, I really understand. I know why her name is Ghost-Spider and I understand that "Spider-Gwen" can't be her real superhero name, but with Miles and Peter both running around named Spider-Man, why can't- we don't have two Spider-Women outside too? What is the problem ? There are also several Hawkeyes, Captain Americas. I bet there's even another Fancy Dan somewhere!
KEEP READING: March 2019 I'ds!
Alright, these are MY (and other CBR writers…oh, and my wife's) "I'ds" from March, so now you share YOUR I'ds in the comments section! Or on Twitter. Or on Facebook. Wherever you want, really.
The Secret Reason DC Covered Batman: Legends of the Dark Knight #1
About the Author