Stranded Deep: all aquatic creatures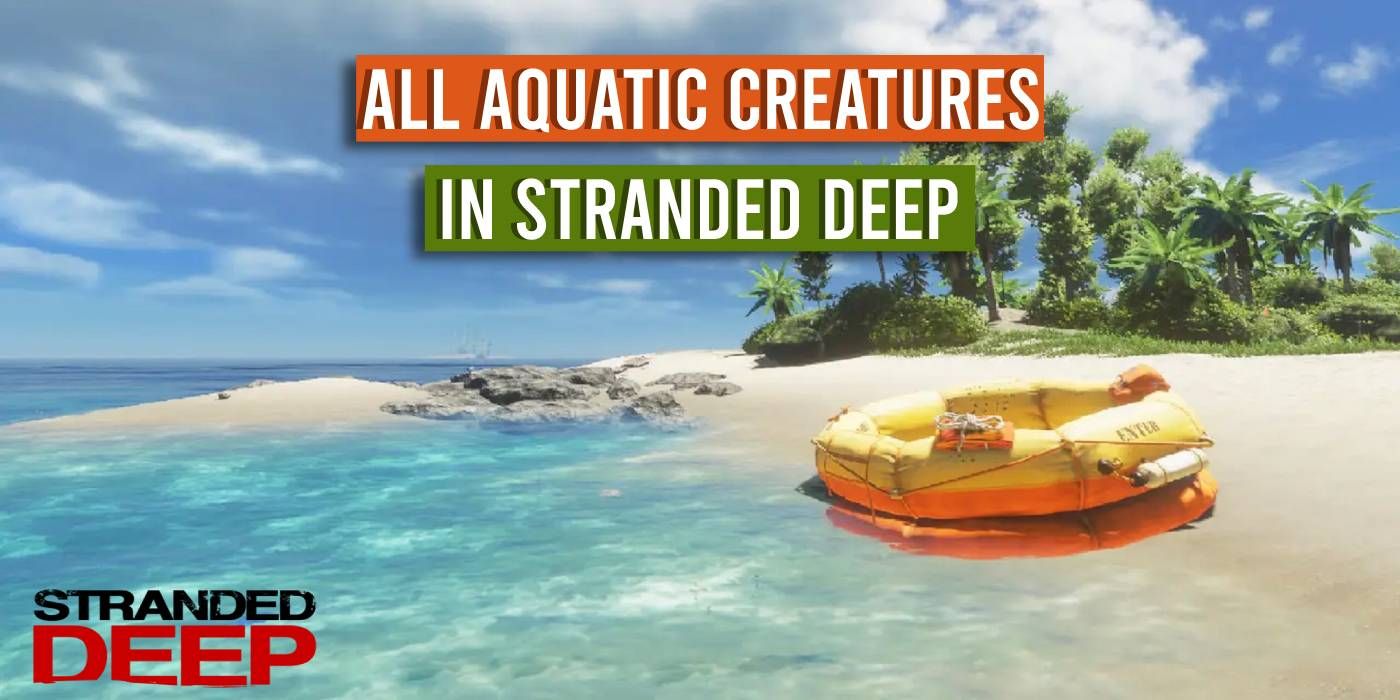 Stranded Deep is a survival game that places you in the middle of the Pacific Ocean, so the main areas you will explore are the islands and the open sea. This, of course, means treating many aquatic creatures like edible fish, adorable sea turtles, and even a giant squid.
RELATED: Stranded Deep: How to Make a House
You will need to learn certain things about each type of aquatic fauna to survive properly in the game environment. For example, which species can you interact with? Or, which ones will inflict poison damage to your character? To make it easier for you, here's everything you need to know about the aquatic creatures of Stranded Deep.
Types of aquatic creatures
It doesn't matter whether you are dealing with a terrifying shark or a harmless starfish; all aquatic species in this game belong to one of the following categories:
Interactive aquatic animals
These creatures are the ones you will need to know how to deal with because they are interactive which means you can kill them and they can harm you as well. In this group you will find animals with different behaviors like harmless fish that you can use for food or boss type creatures that will make things interesting if you like challenges. These are all the interactive aquatic creatures that you will come across.
Archer fish
A small fish that you can catch and skin to get a piece of small meat. Just keep in mind that the best weapon to use with Archer Fish is the fishing spear. Additionally, these fish can be seen anywhere in the ocean, but are especially common in shallow places.
Giant grouper fish
These big boys are hard to miss since they huge, which is good news if you are looking for something to eat since the Giant Grouper Fish will grant you two medium sized pieces of meat after skinning them with the Fancy Knife.
This species of fish is usually found alone and near the open sea (so don't forget your shark repellant) Any weapon will work with them, but keep in mind that you will have to drag them as the fish cannot not be stored in your inventory due to the size of the creature.
Discus fish
Similar to the archer fish, the discus fish is a species that you can catch to get small meat. Discus fish are also best caught using a fishing spear, and you will find them in the shallow waters that are close to the islands.
Cod
These guys are bigger so if you catch them they'll give you medium meat. You can fish for cod using the fishing spear on the high seas or on the edges of the islands. Remember to bring shark repellant to avoid danger.
Lion fish
These spiky guys are usually found near the open air. Once killed, they will provide the player with a small piece of meat. This is not their only use because lionfish are also needed to make shark repellant.
However, when trying to fish for this species, keep in mind that it is capable of inflicting poison damage if you touch it, so it is best to bring antidotes when trying to catch the fish- Lion.
Sardines
These little fish will only give you one piece of small meat. You can find them in shallow water and use a fishing spear to kill them. Although they don't provide much substance, Sardines are a super accessible food source, so you will probably find yourself eating a lot of it when you start this game.
Crown of thorns starfish
While you can't do anything with this type of creature, you should avoid them at all costs as stepping on any of them will give your character a poisoning status effect, causing you to make and use an antidote to stop it.
You can spot this type of starfish on beaches, shallow water, corals, and rocks.
Sea urchin
Similar to the Crown of Thorns starfish, sea urchins will deal poisoning damage in touch with. However, other than that, there's not much you can do with them, so it's best to avoid these thorny things at all costs.
the Sharks
You can't expect to play a game that takes place in the Pacific Ocean without expecting to encounter a shark or two. In Stranded Deep, you'll find nine different shark species, some of which are:
Aggressive: these types of sharks will attack you on sight and may even try to eject you from a raft. The tiger shark, hammerhead shark, goblin shark, great white shark and mega are known to be aggressive species.
Non hostile: these types of sharks won't attack you. Instead, they will swim around you. However, if you attack them, there is a chance that they will move away. The known non-hostile shark species in Stranded Deep are the whale shark and the marlin.
Either way, sharks provide rawhide and large chunks of meat and are found in both shallow and deep parts of the ocean. To track them down you have to use weapons like the raw spear, the refined spear, or the crossbow. But if you want to avoid them instead, make some shark repellent using x1 coconut vial, x1 Antidote and x1 LionFish.
Patterns
If you want to progress through the story of Stranded Deep, you will have to manage boss type creatures ultimately, because they must be defeated if you want to reach the end of the game.
Currently there are three bosses in the game. You will know where they are by looking for one. red skull icon on cartographer screen. Each boss will have a different attack pattern, so defeating each will require preparation and strategy on your part.
RELATED: Stranded Deep: Every Shark & ​​Where To Find Them
All the effort is worth it since, after defeating a boss, you will be able to craft the parts you need to repair the damaged plane. There are three parts, so three bosses to defeat, they are:
The Meg: As you can guess from the name, The Meg one is the biggest shark you will encounter in the game. It has 500 health and can deal bleed damage, jump out of the water to attack you and train yourself. The best weapons to use against this giant shark are the refined spears and the crossbow.
The great Abaia: This boss is a huge eel that deals more damage than The Meg and has more health. The good news is that this fight will be quite similar to the one with The Meg, so you won't be in uncharted territory.
Lusca the Great: This is the last boss, so fighting him will be a challenge. This giant squid does not play. To put it in perspective, weapons like raw spears or the crossbow won't hurt him as much. Not only that, but the squid has a lot of health and can attack using its tentacles AND beak.
Non-interactive aquatic animals
These types of creatures are in the game primarily as cosmetic addition, you can touch or bump some of them, but not much can be done with non-interactive animals. Here are all of the creatures you can't interact with:
Black tip reef shark
Copperband lionfish
Clown fish
Humpback whale
Paracanthurus
Sea turtle
Sea serpent
Ray
Starfish
And that's all. Enjoy exploring the ocean.
NEXT: Stranded Deep: How To Get Water
Blizzard has canceled BlizzCon 2021 and will host a global event in early 2022
About the Author