Peter Wisdom's Powers Weren't Accidentally Hijacked At Marvel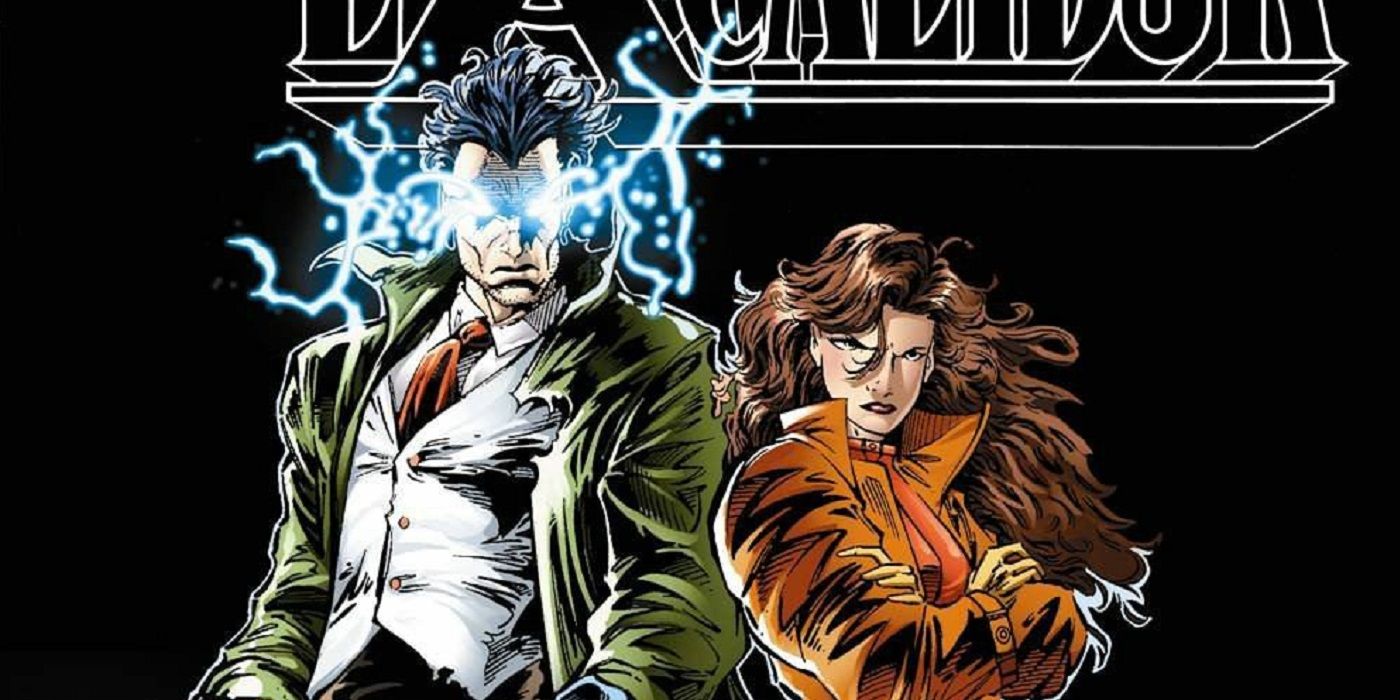 In the Latest Comic Book Legends Revealed, Find Out If an Artist Accidentally Pulled Pete Wisdom's Powers Incorrectly
Welcome to Comic Book Legends Revealed! This is the eight hundred and fifty-fourth episode where we take a look at three comic book legends and determine if they are true or false. As usual, there will be three posts, one for each of the three captions. Click here for the first caption of this episode. Click here for the second caption of this episode.
NOTE: If my twitter page reached 5,000 subscribers, I'll be doing a bonus edition of Comic Book Legends Revealed that week. Good deal, right? So go follow my Twitter page, Brian_Cronin!
COMIC CAPTION:
In an early issue, Pete Wisdom was accidentally drawn to the powers he had before Warren Ellis brought him to Marvel.
STATUS:
Fake
In the previous caption, I explained how Pete Wisdom, who made his Marvel comics debut in Excalibur #86…
was actually created by Warren Ellis and artist Ben Dilworth (see what a beautiful tribute at Dilworth work. He never really broke into the mainstream, but he did do a lot of great indie work in the late 80s/early 90s) as part of a pitch to Trident Comics, the British comics company. comics from Neptune Distribution. Unfortunately, the company went bankrupt before that of Ellis and Dilworth. electric angel pitch (about a British hero with electrical powers) could never be accepted. So Ellis took the character to Marvel instead (I suspect it was a situation where Ellis owned the character).
RELATED: Pete Wisdom's Origins Began in a Whole Other Business Than Marvel
What's interesting, however, is that when Pete Wisdom first appeared in Excalibur #88 (drawn by Ken Lashley and Tom Wegryzn), Pete's powers certainly don't look like "hot kives", do they? What are the powers of Pete Wisdom in the Marvel Comics…
Well, there might be an interesting reason for that.
Mark Roberts, who directed the exceptional Blog "It's from Darkmoor" (about the British side of the Marvel Universe, which ended when Marvel stopped doing much with the British side of the Marvel Universe), noted a while ago about this blanket being the choice for Ellis' commercial collection Excalibur stories:
If so, that seems a bit of an odd choice. This cover features Pete Wisdom and Kitty Pryde from the Dream Nails storyline. Weird, because it's kind of an artistic mistake. You can see that in this cover, Pete Wisdom seems to have some kind of electricity buzzing in his eyes. Why ? Well, some of you probably don't know that Pete Wisdom wasn't originally intended to be a Marvel Comics character. He was created by Warren Ellis and Ben Dilworth as part of a pitch for a title called "Electric Angel" for Britain-based Trident Comics. Wisdom was a still, angry young man from Essex, but a man who had mastered electricity – not hot plasma knives. Unfortunately, Trident went bankrupt, and it never saw the light of day. Pete Wisdom was later reworked by Ellis and introduced early in his run on Excalibur. He's the Pete Wisdom we know now. But I'm told that at some point before his powers were replaced by the "Hot-Knives", this cover was assembled, along with his originally intended set of powers. Ellis of course returned to some of the forsaken power set later on with another British character, in the form of the brilliant Jenny Sparks of Stormwatch and later The Authority. Weird how these things work, huh? Or so the urban legend goes.
RELATED: The Surprising Comic Book Origins of SpongeBob Squarepants
However, it turns out that Warren Ellis responded to Mark's point by explaining that this was just a case of Lashley coming out of the book, not that Lashley was drawing the previous version of the character, because Ellis didn't. had actually told anyone at Marvel about it. the previous version of the character. As he noted, "Marvel never knew the previous iteration of this character. He's just a crazy artist."
So yeah, it was basically artistic license, like Todd McFarlane doing the ninety-foot-long Batman cape or Frank Cho… well… you know what Frank Cho does.
Thanks to Mark for the warning about Warren Ellis' answer!
DISCOVER A FILM LEGENDS REVEALED!
In the latest Movie Legends Revealed – Find out if the iconic Copacabana sequence in Goodfellas came about by chance.
MORE LEGENDS!
OK, that's it for this episode!
Thanks to Brandon Hanvey for the Comic Book Legends Revealed logo, which I actually don't even have anymore, but I used it for years and you still see it when you see my old columns, so that's fair enough to thank him again, I think.
Feel free to (hell, please!) write in with your suggestions for future installments! My email address is [email protected] And my Twitter feed is http://twitter.com/brian_cronin, so you can also ask me for captions there! Also, if you have any correction or comment, feel free to email me as well. CBR sometimes emails me with emails they receive about CBLR and that's fair enough, but the fastest way to get a fix is ​​to just email me directly, honestly. Corrections don't bother me. Always better to get things accurate!
This is my most recent book, 100 Things X-Men Fans Should Know And Do Before They Diefrom Triumph Books.
If you want to order a copy, order it here gives me a referral commission.
This is my second book, Why does Batman wear shark repellent? The cover is by Kevin Hopgood (the man who designed the War Machine armor).
If you want to order a copy, order it here gives me a referral commission.
Here is my comic book legends (130 legends. — half of them are reworked classic legends that I featured on the blog and the other half are legends never published on the blog!).
The cover is by the artist Mickey Duzyj. He did a great job on it…
If you want to order it, you can use this code if you would like to send me a bit of a referral fee.
Follow Comics Should Be Good On Twitterand on Facebook (Also feel free to share Comic Book Legends Revealed suggestions on our Facebook page!). Not only will you receive updates when new blog posts appear on Twitter and Facebook, but you'll also get original content from me!
See you next time!!