One of the first lost comic book superheroes didn't even appear in a comic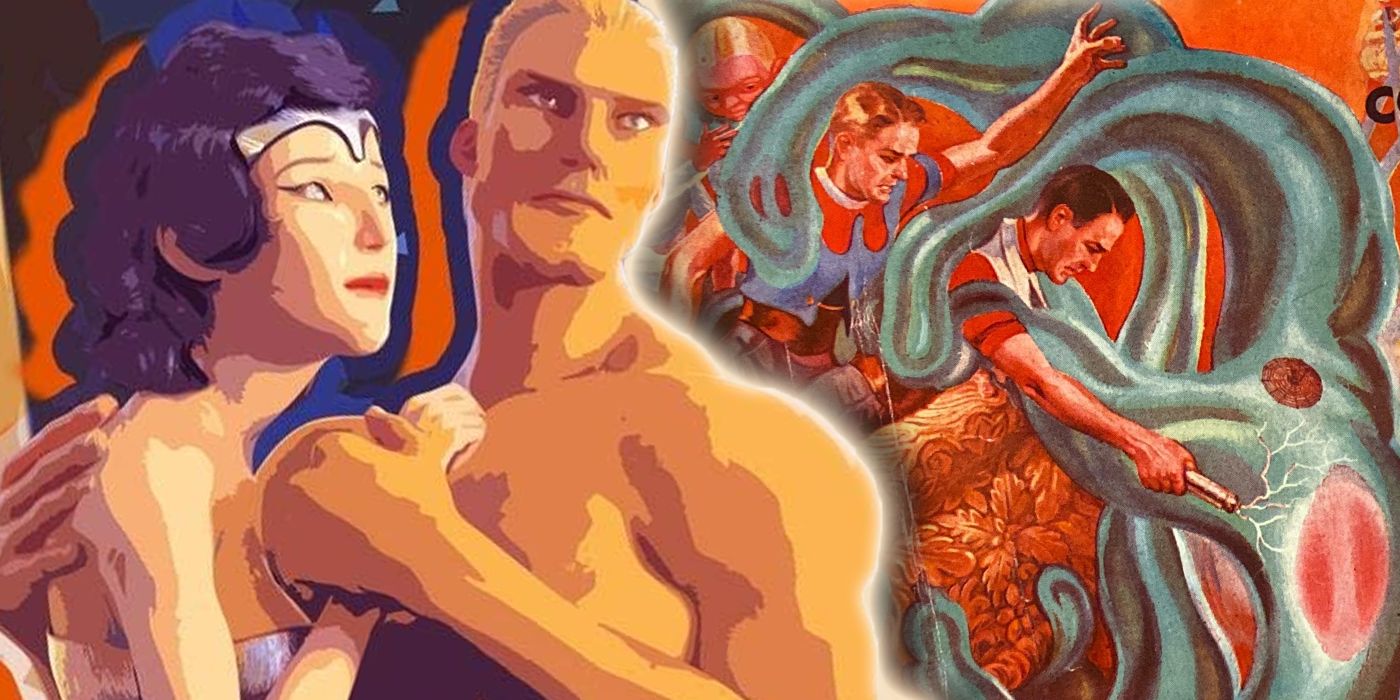 In the latest Comic Book Legends Revealed, find out how a comic book superhero who came before Superman didn't actually appear in a comic book, but rather in a pulp fiction magazine!
Welcome to Comic Book Legends Revealed! This is the eight hundred and fifth episode where we take a look at three comic book legends and determine if they are right or wrong. As usual, there will be three posts, one for each of the three captions. Click here for the first part of this episode's captions. Click here for part two of this episode's captions.
NOTE: if my twitter page reached 5,000 subscribers, I will be doing a bonus edition of Comic Book Legends Revealed that week. Good deal, right? So will follow my Twitter page, Brian_Cronin!
COMIC LEGEND:
One of the first comic book superheroes appeared in a pulp fiction magazine, not a comic book.
STATUS:
True
Let me quickly set the scene for you in the early days of the comic book industry. There were two main forms of mass consumption of print media for genre fans. There were newspaper comics (especially the Sunday Funnies, which were much more elaborate), which were extremely popular back then and there were so many more newspapers printed back then (like before TV or Internet, you pretty much had to read or listen to the radio when you were at home for entertainment) that there were so many opportunities to see different comics. And then there were pulp fiction magazines, short stories featuring captivating heroes. These two forms of media were by far the biggest influences in the early days of the original comics, as the first original comics typically riffed on a pulp fiction character like Shadow or a comic book character like Buck Rogers.
The first comics, however, were simply reprints of comics. By 1936, these comics were selling pretty darn well, leading most people in the industry to think that this was the only real future for the comic book industry, to collect popular newspaper strips (and therefore the competition was who had the best collection of comics in their comics). Some, however, like Major Malcolm Wheeler-Nicholson, were still committed to the original comics as the future of the industry and things slowly improved in this regard, when Wheeler-Nicholson launched its third series of comics. originally drawn in 1936, called Detective Comics. Unfortunately he was kicked out of his own business before the 1938s Action comics debuted, a comic that, well, you know kind of changed the whole industry.
RELATED: How a Superman Comic Book Became a Final Team of Two Comic Book Icons
Yet by 1936 there was enough interest in the original comic book stories that in a new turn of events the pulps started to pay a little attention to them and Beacon Publications began to make kind of picture stories. in some of his magazines, like Six Gun Sandy in Throbbing western…
But finished in Exciting Stories of Wonders, a young editor named Mort Weisinger presented a Buck Rogers / Flash Gordon riff called Zarnak (the stories were credited to Max Plaisted, but at least the art was by Jack Binder, and it's likely his brother, Otto, worked on the tape, as well as).
The problem was, pulp fiction fans hated the strip. One of the earliest uses of the term "superhero" was an insulting letter in the letter columns talking about Zarnak, "I have to agree with others that he quickly escalates into the juvenile antics of a superhero. Muscular. The latter sort of thing may be very good in Sunday comics, but it's decidedly out of place in a respectable sci-fi magazine. "
Fortunately, Weisinger was luckier editing another muscular superhero from the late 1940s to 1970s …
Zarnak's tapes were recently collected in a book titled Zarnak project by Unicorn Prints …
RELATED: Loki: Who REALLY Created the Keepers of Time
DISCOVER A REVEALED TELEVISION LEGEND!
In the latest TV Legends Revealed – Find out which of the Masters of the Universe figures the creators of the He-Man cartoon refused to use in the TV series!
MORE LEGENDS!
OK, that's it for this episode!
Thanks to Brandon hanvey for the Comic Book Legends Revealed logo, which I don't even know anymore, but I've used it for years and you still see it when you see my old columns, so it's fair enough to thank it again, I think.
Don't hesitate (damn it, I beg you!) To write with your suggestions for future installments! My email address is [email protected] And my Twitter feed is http://twitter.com/brian_cronin, so you can also ask me for captions there! Also, if you have any correction or comment, please feel free to email me as well. CBR sometimes sends me emails with emails they get about CBLR and that's fair enough, but the fastest way to get a correction is to email me directly , honestly. Corrections don't bother me. It is always better if things are precise!
Here is my most recent book, 100 Things X-Men Fans Should Know And Do Before They Die, from Triumph Books.
If you would like to order a copy, order it here gives me a referral commission.
Here is my second book, Why Does Batman Wear Shark Repellent? The cover is from Kevin Hopgood (the guy who designed the War Machine armor).
If you would like to order a copy, order it here gives me a referral commission.
Here is my comic book legends book (130 legends. – half of them are reworked classic legends that I featured on the blog and half of them are legends. never published on the blog!).
The cover is by the artist Mickey duzyj. He did a great job on it …
If you want to order it, you can use this code if you want to send me a little fee for reference.
Follow Comics Should Be Good on Twitter and on Facebook (also, feel free to share Comic Book Legends Revealed on our Facebook page!). Not only will you receive updates when new blog posts appear on Twitter and Facebook, but you will also get original content from me!
See you next time!
KEEP READING: X-Men: How One Of The Starjammers Could Have Changed The Shi'ar Empire Forever
X-Men's Mars movement puts Marvel universe on edge
About the Author