Marilyn Monroe lookalikes gather on Brighton beach to pay tribute to the Hollywood star and raise money for cancer research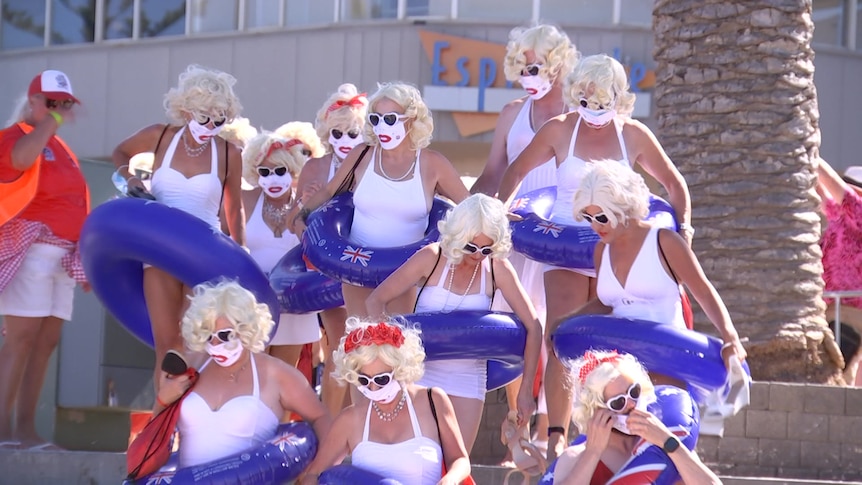 During her lifetime, Marilyn Monroe was no stranger to front-page splashes, regularly appearing on the cover of magazines such as Time, Life and Vogue.
Key points:
Over 300 people dressed as Marilyn Monroe gathered for a swim at Brighton Beach
Many wore Monroe's signature swimsuit and sunglasses
The event is in its ninth year and raises money for cancer research
Nearly 60 years after his death, a coterie of the Hollywood star's most avid fans have gathered for a twist of a different kind.
Wearing their idol's signature white swimsuit and sunglasses, 314 people gathered on Brighton Beach in Adelaide this morning, setting a new record for the annual Marilyn Jetty Swim.
The event raises funds for cancer research and is now in its ninth year.
During a brief but illustrious career, Monroe starred in films such as Gentlemen Prefer Blondes and Some Like It Hot.
While it wasn't exactly sweltering on Brighton beach this morning, the mass of Marilyns ended up dipping their toes in the water.
"It means a lot, because it just means we're getting closer to better treatments and a cure for cancer," said event creator Sarah Tinney.
One Marilyn, who by her own admission is not a seasoned swimmer, joked that she was worried about getting her feet wet, but was ready to brave the cold water.
"I expect to be picked up by a very nice lifeline, girl or boy, and brought to the end," Bettina Melick said.
Another Marilyn said that she had traveled a considerable distance to participate in the event.
"I live in Queensland and saw it on TV there last year and thought, yeah, that would be a lot of fun," she said.
Although there was a lot of frills and a lot of frivolity, the serious purpose of the event was at the forefront of the Marilyns' minds.
Participant Alexandra Newbold lost two sisters to cancer, one of them just five weeks ago. She said she hoped to raise as much money as possible.
"I'm thrilled to be in the Marilyn swim today…it's such a worthy case," she said.
"We are very sad but we are happy to honor their memories (her sisters).
"It's great to do something positive."
Many participants have battled cancer themselves.
"I had breast cancer, I lost a breast," Ms Melick said.
"I have a shop and I love empowering women…after going through something as traumatic as this.
"I bring others down and involve them."
Organizers hope this year's race will raise $200,000.
"We're already at $125,000 today," Ms Rowlands said.
"It's a way of bringing people together.
"Everyone is touched by cancer in one way, one form or another.
"It's really to raise money for the vital work we do at Cancer Council SA."