Lymphoma of the lymphoid tissue associated with the intraparenchymal mucosa: about a case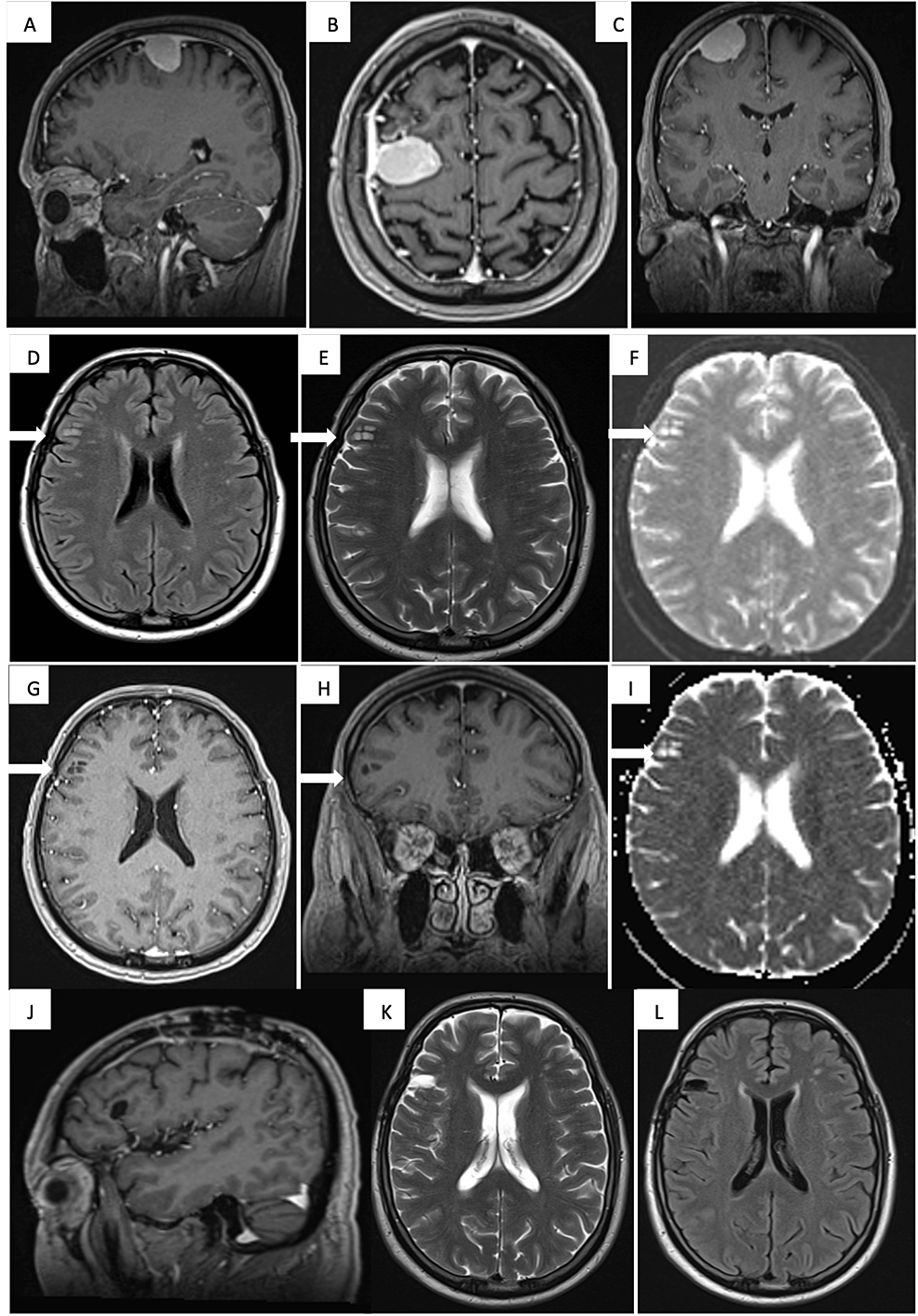 Marginal zone B-cell lymphoma (MZBCL) of mucosa-associated lymphoid tissue (MALT) type, which is primary to the central nervous system (CNS), is a rare lesion, those originating in the parenchyma even more so. . We present the case of a 64-year-old man with left hand weakness and focal arm motor seizures who was found to have a right frontal intraparenchymal lesion. After resection, histopathological and immunohistochemical evaluations were performed, leading to the diagnosis of a primary CNS MZBCL of MALT type in the context of a negative systemic disease workup. Findings from neuroimaging, histopathology, and immunohistochemistry, as well as a comprehensive literature review of similar cases, are discussed.
Introduction
Primary central nervous system lymphoma (PCNSL) is an aggressive but rare variant of extranodal non-Hodgkin's lymphoma, accounting for approximately 4% of primary and malignant CNS tumors. [1]. They originate mainly from the brain, leptomeninges, spinal cord and vitreoretinal compartment of the eye [2]. About 90% of cases reported as PCNSL are diffuse large B-cell lymphomas, leaving small B-cell lymphomas in the minority [3].
Within the category of small B-cell lymphomas, marginal zone lymphomas (MZLs) account for the majority of primary CNS neoplasms [4]. Mucosal-associated lymphoid tissue (MALT) lymphoma as a subtype of MZL, originally described as low-grade lymphomas in the gastrointestinal tract, is found primarily in the stomach, but is also found commonly in the salivary glands, thyroid, ocular adnexa, lungs, and breasts [5,6]. However, primary CNS MALT lymphomas are rare.
You et al. reported 15 primary cases of CNS MZL, 93% of which were dural lesions mimicking meningiomas, originating from sites including the convexity of the brain, falx, tenta, midcranial base, ventricles, and spinal dura mater [7]. However, primary CNS MZL lesions that originate in the parenchyma are exceptionally rare and may be misdiagnosed as gliomas in some patients. [8].
We present the case of a patient with primary CNS intraparenchymal MALT lymphoma with an immunohistochemical profile. Additionally, a review of the literature on similar cases, including treatment options and outcomes, is discussed. To our knowledge, the present case represents the first reported case of a patient with such a lesion to be managed solely with surgical resection.
Presentation of the case
A 64-year-old man with a history of rheumatoid arthritis and antiphospholipid syndrome presented with mild left hand weakness and a focal motor seizure involving his arm. The patient was receiving hydroxychloroquine for his rheumatoid arthritis and no biological agent was used to our knowledge. He was found to have an extra-axial mass covering the right posterior frontal lobe at the level of the convexity, measuring approximately 2.3 x 2.7 x 2.3 cm (anteroposterior (AP) x transverse (TR) x craniocaudal (CC)), and an intraparenchymal lesion in the subcortical white matter of the right frontal lobe extending approximately 0.8 x 1.1 cm with radiological features consistent with a low-grade glial tumor ( figure 1).
He was assessed by the hematology team and cleared for surgery to resect these lesions. Neuropathological evaluation after surgical resection confirmed the diagnosis of meningioma for the tumor of the convexity. Histopathological evaluation of the intraparenchymal lesion revealed a diffuse lymphoplasmacytic infiltrate composed of mature small lymphocytes, plasmacytoid lymphocytes and mature plasma cells. Immunohistochemistry showed that most cells were CD20-positive (B cells) with kappa light chain restriction. Ki-67 demonstrated a very modest proliferative index. The tumor was uniformly positive for BCL2 and negative for CD5, CD21, CD10 and cyclin-D1 (Figure 2). Finally, synaptophysin and GFAP immunohistochemistry showed that the cellular infiltrate was unreactive. This was diagnosed as a MALT type MZBCL.
Diagnosed with low-grade B-cell lymphoma, the patient then underwent bone marrow biopsy, CSF analysis, and lymph node biopsy, which showed no systemic disease. He was also found to be HIV positive and H. pylori-negative. To date, the patient has elected not to proceed with adjuvant treatments, and nine-month follow-up MRI and positron emission tomography imaging confirmed no recurrent masses or adverse interval changes in the parenchyma.
Discussion
Only a few cases of primary low-grade intracranial lymphoma of the MALT subtype have been reported in the literature, the vast majority being located in the dura mater. Since the CNS does not contain mucosal tissue or MALT, it has been hypothesized that meningothelial cells in the brain are analogous to epithelial cells from other sites where MALT lymphoma commonly occurs. [8]. However, it is still unclear how primary MZBCL can manifest in intraparenchymal tissue. Recently, an association was found between autoimmune disease and MZBL [9]. Our patient had a history of rheumatoid arthritis and antiphospholipid syndrome, giving rise to the possibility of a causal antigenic stimulation process.
A review of the literature using the EMBASE and MEDLINE databases using the keywords "MALT lymphoma" or "mucosa-associated lymphoid fabric lymphoma" and "brain tumors" mainly found previous cases of dural MALT lymphoma. A total of 13 cases were found in the literature of cases having been diagnosed with primary MZBCL of the MALT type involving the cerebral parenchyma (Table 1) [7,8,10-16]. Five cases involved the frontal cortex, four the parietal cortex, two the basal ganglia and one the midbrain. The remaining studies reported one patient with multiple lesions involving the temporal and occipital cortex, as well as the spinal cord. With the exception of the patient diagnosed postmortem by autopsy, all cases required radiotherapy or chemotherapy, with only one patient receiving both radiotherapy and surgery.
In addition to presenting a new and interesting radiological diagnosis, this case raises questions regarding the oncological management of intraparenchymal MALT lymphomas. Currently, surgery, chemotherapy, radiation therapy, or a combination of these modalities are used to treat CNS lymphomas. To our knowledge, our case represents the first reported case of a patient with MALT-like intraparenchymal MZBCL to be managed by surgical resection alone. Our patient remained disease-free nine months postoperatively, suggesting that adjuvant therapy may not be necessary in the initial management of intracranial MALT lymphoma in some cases. Radiation therapy and chemotherapy can cause significant neurotoxicity. Therefore, cases must be carefully assessed on an individual basis to minimize iatrogenic sequelae from exposure to these therapies. Additionally, given the propensity of MALT lymphomas to recur, this patient and others similarly affected should be followed closely with serial MRIs. [17].
conclusion
In conclusion, the results presented here indicate that primary MZBCL may not be isolated from the meninges and may develop in the brain parenchyma. Thus, MZBCL should be considered in the differential diagnosis of intra-axial CNS masses. This case suggests that localized MZBCL can be managed by local excision without requiring radiation therapy or early chemotherapy. However, more evidence is needed to draw conclusions regarding the optimal management of this disease.