How Some Major Changes Led To The First Superman/Batman/Wonder Woman Team-Up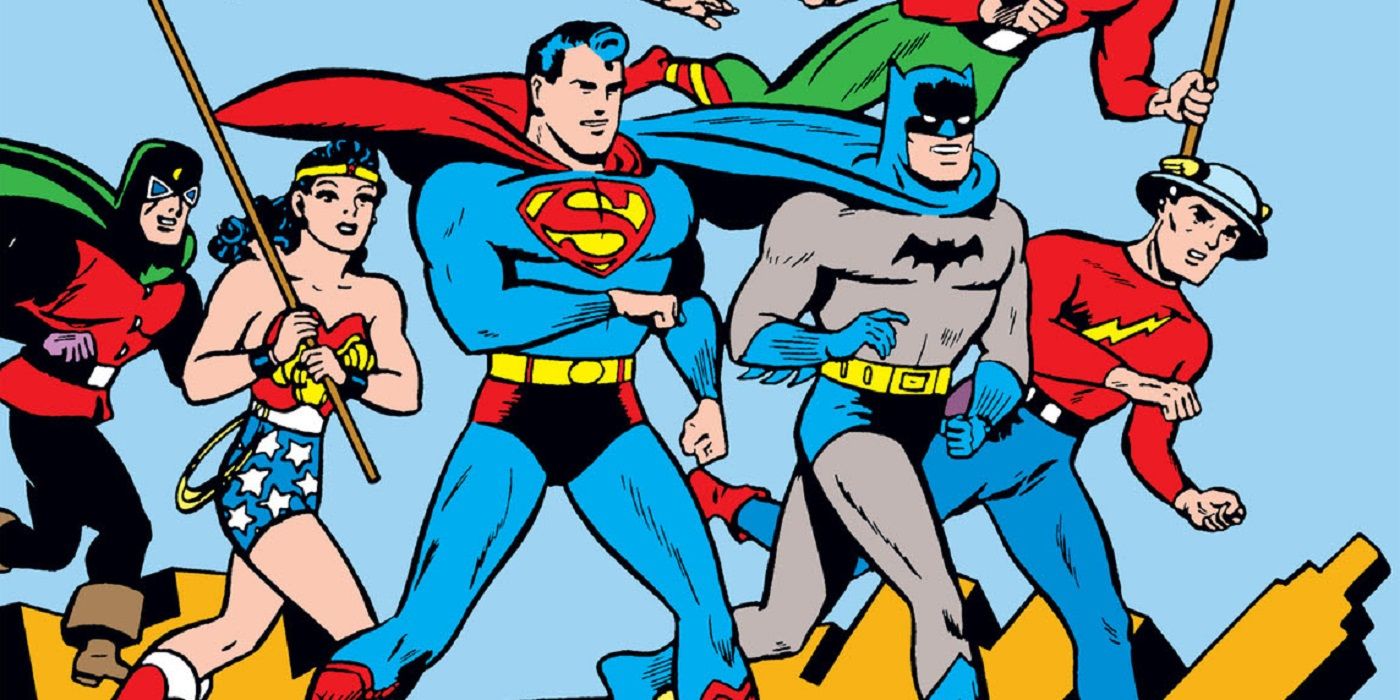 In the latest Comic Book Legends Revealed, find out how some major script changes led to the first Superman/Batman/Wonder Woman team-up
Welcome to Comic Book Legends Revealed! This is the eight hundred and fifty-fifth episode where we take a look at three comic book legends and determine if they are true or false. As usual, there will be three posts, one for each of the three captions. Click here for the first caption of this episode. Click here for the second caption of this episode.
NOTE: If my twitter page reached 5,000 subscribers, I'll be doing a bonus edition of Comic Book Legends Revealed that week. Good deal, right? So go follow my Twitter page, Brian_Cronin!
COMIC CAPTION:
The first team-up of Batman, Superman, and Wonder Woman was not supposed to occur in the comic in which it occurred.
STATUS:
I go with true
One of the fascinating things about the history of the Justice Society of America in All-Star Comics is that Gardner Fox, the initial creator of the Justice Society and the author of their adventures in their early years, wrote his scripts in the classic way (you know, wrote from scratch and then the script was given to the artists who then drew the scripts), and therefore had scripts handed out long before they were set to run. And as I've pointed out in a few different comic book legends revealed over the years, some of those scripts ended up not being used for various reasons (including an anti-Japan issue that seemed unnecessary after the end of the Second World War). The late and great comics historian Jerry Bails received from Gardner Fox (before Fox's death) four stories that Fox had written and which were never printed. At Roy Thomas Companion All Star Volume 1, one of these stories was printed (well, the pages that remained. Others were later presented in the second volume). Bails speculated that Fox made a mistake with one of the other stories and that it was actually just an unused title for a story that was published. This left a story, "The Men of Magnifica", which Bails (and others) claim was adapted by Robert Kanigher as 1947's "5 Drowned Men" in All-Star Comics #36.
RELATED: The Surprising Reason The 1990s Venom Comic Was Canceled
Kanigher, for his part, has always denied writing the issue, although editor Julius Schwartz remembers Kanigher rewriting one of the story's chapters featuring the Flash. We'll probably never know for sure if the story was a rewritten Fox script (but it seems likely, because it just made sense for the comic company not to want to waste the Fox scripts they bought, at unless they absolutely had to, like the one in Japan).
The issue was clearly reworked from an earlier script (if not by Fox, then by SOMEone), as it had odd little bits, like a prologue that seemed clearly intended for another part of the story…
But the most notable feature of this comic is that it contained Superman and Batman! For only the second time in the history of the Justice Society!
It was the first time the two heroes had interacted with Wonder Woman in a comic book story…
However, it's pretty obvious that Batman and Superman weren't just replacing the Atom and Johnny Thunder, but literally taking OVER the scripted pages designed for those characters! Note that Batman is called the "Mighty Batman" (the Atom was called the Mighty Atom)…
And nothing Batman does in this story could have been done by the Atom…
RELATED: The Surprising Reason The 1990s Venom Comic Was Canceled
Likewise, Superman didn't do anything that Johnny Thunder's Thunderbolt couldn't have pulled off…
Also note that Superman's Adventure was a four-page document, where lesser superheroes received their page assignments.
This is clearly a case of a previously scripted four-pager being adjusted to feature the most famous superhero in the business!
Although I can't say for sure, I bet it was Robert Kanigher who wanted to mix things up for the issue and then Mort Weisinger put the kibosh on it happening again (Weisinger didn't like to let other editors use "his" Superman characters (same with Batman editor Jack Schiff, to a lesser extent).
It's fascinating, though, that these edited scripts led to the first encounter with DC's now-iconic superhero, Trinity!
Many thanks to Roy Thomas and Jerry Bails for the information! Even if some of them still remain a mystery.
DISCOVER A FILM LEGENDS REVEALED!
In the latest Movie Legends Revealed – Is Shelley Winters' iconic story about attending an audition with her two Oscars true?
MORE LEGENDS!
OK, that's it for this episode!
Thanks to Brandon Hanvey for the Comic Book Legends Revealed logo, which I actually don't even have anymore, but I used it for years and you still see it when you see my old columns, so that's fair enough to thank him again, I think.
Feel free to (hell, please!) write in with your suggestions for future installments! My email address is [email protected] And my Twitter feed is http://twitter.com/brian_cronin, so you can also ask me for captions there! Also, if you have any correction or comment, feel free to email me as well. CBR sometimes emails me with emails they receive about CBLR and that's fair enough, but the fastest way to get a fix is ​​to just email me directly, honestly. Corrections don't bother me. Always better to get things accurate!
This is my most recent book, 100 Things X-Men Fans Should Know And Do Before They Diefrom Triumph Books.
If you want to order a copy, order it here gives me a referral commission.
This is my second book, Why does Batman wear shark repellent? The cover is by Kevin Hopgood (the man who designed the War Machine armor).
If you want to order a copy, order it here gives me a referral commission.
Here is my comic book legends (130 legends. — half of them are reworked classic legends that I featured on the blog and the other half are legends never published on the blog!).
The cover is by the artist Mickey Duzyj. He did a great job on it…
If you want to order it, you can use this code if you would like to send me a bit of a referral fee.
Follow Comics Should Be Good On Twitterand on Facebook (Also feel free to share Comic Book Legends Revealed suggestions on our Facebook page!). Not only will you receive updates when new blog posts appear on Twitter and Facebook, but you'll also get original content from me!
See you next time!!