How one of the Starjammers could have changed the Shi'ar Empire forever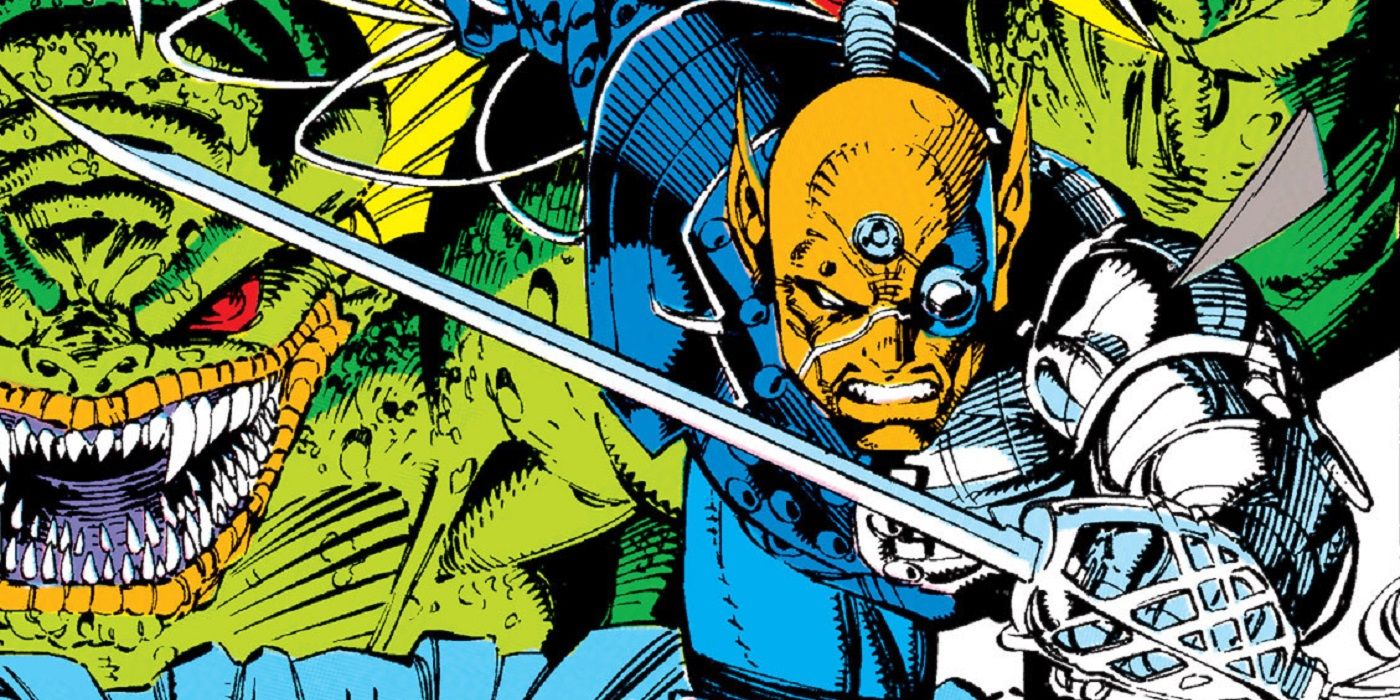 In the latest Comic Book Legends Revealed, find out if any of the Starjammers were almost a member of the royal family of the Shi'ar Empire.
Welcome to Comic Book Legends Revealed! This is the eight hundred and fourth installment where we take a look at three comic book legends and determine if they're right or wrong. As usual, there will be three posts, one for each of the three captions. Click here for part 1 of this episode's captions. Click here for part 2 of this episode's captions.
NOTE: if my twitter page reached 5,000 subscribers, I will be doing a bonus edition of Comic Book Legends Revealed that week. Good deal, right? So will follow my Twitter page, Brian_Cronin!
COMIC LEGEND:
Raza of the Starjammers was originally to be the brother of Emperor Shi'ar, D'Ken.
STATUS:
True
A while back I did a Legends Revealed comic about how Chris Claremont told Dave Cockrum that they just couldn't use the Starjammers in the last issue of X-Men's Cockrum, so that Cockrum could keep the characters to himself or maybe sell them to Marvel as a separate thing. We're going to cover a bit of the same territory here.
Dave Cockrum was one of the most inventive creators in comic book history. He is constantly inventing new ideas. Oddly enough, a number of the characters he intended to use at DC were never used because he was working enough for the company on a dispute over the original art (I spoke about this in an old comic book Legends Revealed, but suffice it to say that Cockrum says he might have one of his pages that meant a lot to him, but the DC editor reversed that decision for fear it would set a bad precedent , so Cockrum resigned on principle) and so he reworked them with Len Wein to create a number of the X-Men All-New, All-Different (namely Storm, Nightcrawler, Thunderbird and Colossus).
During this time, another concept of Cockrum was a space pirates idea called the Starjammers …
RELATED: Did Marvel Almost Make an AC / DC Comic Book Series?
The Starjammers made their comic book debut in X Men # 107 …
But then Cockrum was out of the book, and since they were his characters, Claremont felt that if they ever had the spotlight on them, it should be through Cockrum. However, due to various vagaries of life, it wasn't until 1990 that the Starjammers finally got their own projector. It WAS drawn by Cockrum, at least (and he almost certainly drew it too)
RELATED: Did Marvel Almost Make an AC / DC Comic Book Series?
Due to this delay, however, various ideas that Cockrum had for the characters at the time of their introduction that could not be addressed at the time (since the Starjammers are only part of a rather loaded issue that also involved the introduction of the Shi 'ar Imperial Guard, which Cockrum based on his DC series, The Legion of Superheroes) has fallen apart over the years, as there are certain ideas that if you don't introduce them right away you kind of lose the ability to do it.
For example, let's say you are planning a new villain to be Spider-Man's old babysitter. If you introduce the character without that information and make him appear multiple times over the years before he gets his own set of spotlight a decade later, it's probably a little later to say that he was Spider-Man's babysitter. The moment has passed.
Likewise, Chris Claremont pointed out in an interview he did in Comic Book Review # 50 that Cockrum's original plan for Raza of the Starjammers was that he was the brother of Emperor Shi'ar who was allegedly killed in an assassination attempt but survived as a cyborg …
It would also have made him Lilandra's brother. That would've pretty much changed every story in the Shi'ar Empire, as you always should have made it into the mix as well.
Alas, Cockrum quit the book and Claremont didn't pursue the idea, so it never happened, but it's fascinating to think about what would have happened if it had happened.
Thanks to Chris Claremont for the information and thanks to my buddy Nathan A. for suggesting this one.
DISCOVER A LEGENDS FILM REVEALED!
In The Latest Movie Legends Revealed – Find Out The Weird Reason Why Team Iceland Was The Villains Of D2: The Mighty Ducks Despite, You Know, Not Really Known For Hockey.
MORE LEGENDS!
OK, that's it for this episode!
Thanks to Brandon hanvey for the Comic Book Legends Revealed logo, which I don't even know anymore, but I've used it for years and you still see it when you see my old columns, so it's fair enough to thank it again, I think.
Don't hesitate (damn it, I beg you!) To write with your suggestions for future installments! My email address is [email protected] And my Twitter feed is http://twitter.com/brian_cronin, so you can also ask me for captions there! Also, if you have any correction or comment, please feel free to email me as well. CBR sometimes sends me emails with emails they get about CBLR and that's fair enough, but the fastest way to get a correction is to email me directly , honestly. Corrections don't bother me. It is always better if things are precise!
Here is my most recent book, 100 Things X-Men Fans Should Know And Do Before They Die, from Triumph Books.
If you would like to order a copy, order it here gives me a referral commission.
Here is my second book, Why Does Batman Wear Shark Repellent? The cover is from Kevin Hopgood (the guy who designed the War Machine armor).
If you would like to order a copy, order it here gives me a referral commission.
Here is my comic book legends book (130 legends. – half of them are reworked classic legends that I featured on the blog and half of them are legends. never published on the blog!).
The cover is by the artist Mickey duzyj. He did a great job on it …
If you want to order it, you can use this code if you want to send me some reference fee.
Follow Comics Should Be Good on Twitter and on Facebook (also, feel free to share Comic Book Legends Revealed on our Facebook page!). Not only will you receive updates when new blog posts appear on Twitter and Facebook, but you will also get original content from me!
See you next time!
KEEP READING: Did Marvel Almost Make an AC / DC Comic Book Series?
How Darkseid discovered the Infinity Stones' biggest weakness
About the Author