European stocks fall in the third quarter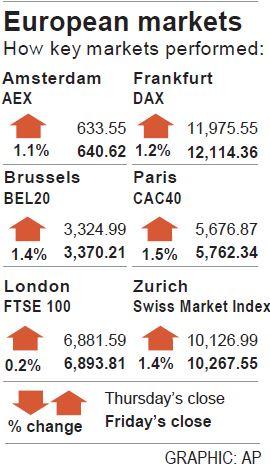 European stocks climbed on Friday but posted steep losses in a quarter marked by rising interest rates and falling risk sentiment, as hot inflation data from the region kept investors on edge. nerves.
The regional STOXX 600 index closed 1.3% higher but briefly pared some session gains after data showed eurozone inflation topped expectations at 10% last month, reaching a new record.
Inflation figures fueled expectations of another big interest rate hike from the European Central Bank.
All sectors of the STOXX ended the day in positive territory, with bargain hunting driving gains among battered retailers, oil & gas and bank stocks.
"It's only a small consolidation, but it's a step in the right direction. It's hard to know if we've hit the all-time low," said Michael Baker, Head of Online Services at Oval Money. "Until inflation is under control, you will see some kind of malaise" in the markets.
The STOXX 600 index, which was down 0.65% for the week, fell 4.8% in the July-September period, marking its third straight quarterly decline in its longest losing streak since 2011 .
Photo: Bloomberg
Markets have been rocked since Russia's invasion of Ukraine earlier this year rocked the region and sent gas prices skyrocketing, leading to runaway inflation, which triggered aggressive rate hikes of the share of central banks and concerns about a further slowdown in growth.
A series of inflation figures released in recent weeks have heightened concerns about the pace and extent of monetary policy tightening globally.
Friday's data showed consumer spending in the United States rebounded in August after falling in July, stoking fears of more hawkish policy action by the US Federal Reserve.
Meanwhile, inflation in the Netherlands hit its highest level in decades due to soaring energy prices, adding to concerns over grim inflation figures from Germany reported on Thursday.
London's blue-chip FTSE 100 fell briefly before closing up 12.22 points, or 0.18%, but was down 1.78% for the week. The national mid-cap index rose 2.3% as the pound gained ground after the Bank of England's intervention in bond markets.
A Reuters poll found the bank was unlikely to raise rates before its next policy meeting scheduled for next month, despite a blow to the pound following its controversial economic growth plans announced last week.
Shares of German sportswear makers Puma and Adidas fell 5.7% and 4.1% respectively, after U.S. rival Nike Inc warned of pressure on margins.
Comments will be moderated. Keep comments relevant to the article. Remarks containing abusive and obscene language, personal attacks of any kind or promotion will be removed and the user banned. The final decision will be at the discretion of the Taipei Times.