EDITORIAL – Resizing | Philstar.com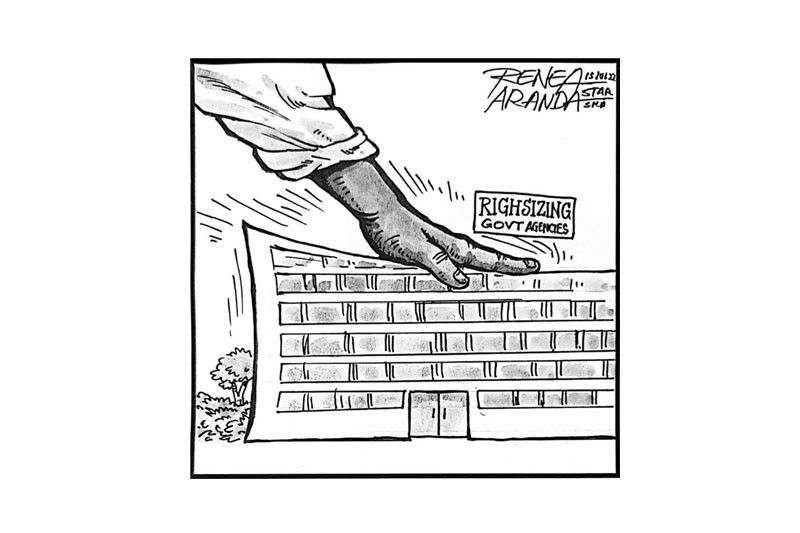 Some areas of bureaucracy are overloaded and can be scaled for optimal performance. The government has become the largest employer in the country, with politicians and influence-peddling special interest groups using public sector jobs as rewards in a corrupt system of clientelist politics.
In recent years, there has also been a growing propensity to respond to difficult national issues by creating new executive departments, with the vast bureaucracies such agencies require.
Cutting bureaucratic fat, as proposed by the Marcos administration as part of a right-sizing program being developed by the Department of Budget and Management, or DBM, is therefore gaining traction.
Government workers are understandably worried, calling the downsizing proposal unfair and, in the circumstances of the economic devastation of the COVID pandemic, inhumane. Department of Labor officials said benefits and new job opportunities were being developed for those who may lose their jobs – up to 5% of the government workforce, according to estimates from DBM.
Some services are also understaffed, including health care and education. The DBM said these sectors as well as uniformed services will not be covered by the downsizing. The country also needs more judges and prosecutors, but the recruitment and appointment system in the judiciary must first be insulated from politics and influence peddling and designed to be truly merit-based.
What needs to be reduced is membership in the House of Representatives, especially in the party list, which has become a travesty of its original intention of marginal representation. Legislators were also busy gerrymanding to accommodate dynastic interests in their territories. The barangay and the Sangguniang Kabataan have also drained the public coffers massively.
Unfortunately, cutting fat in these areas is beyond the executive's resizing powers. But he can focus on the doable, to create lean, mean bureaucracy.