Discover the Secret Artist Behind an Iconic Batman Vampire Story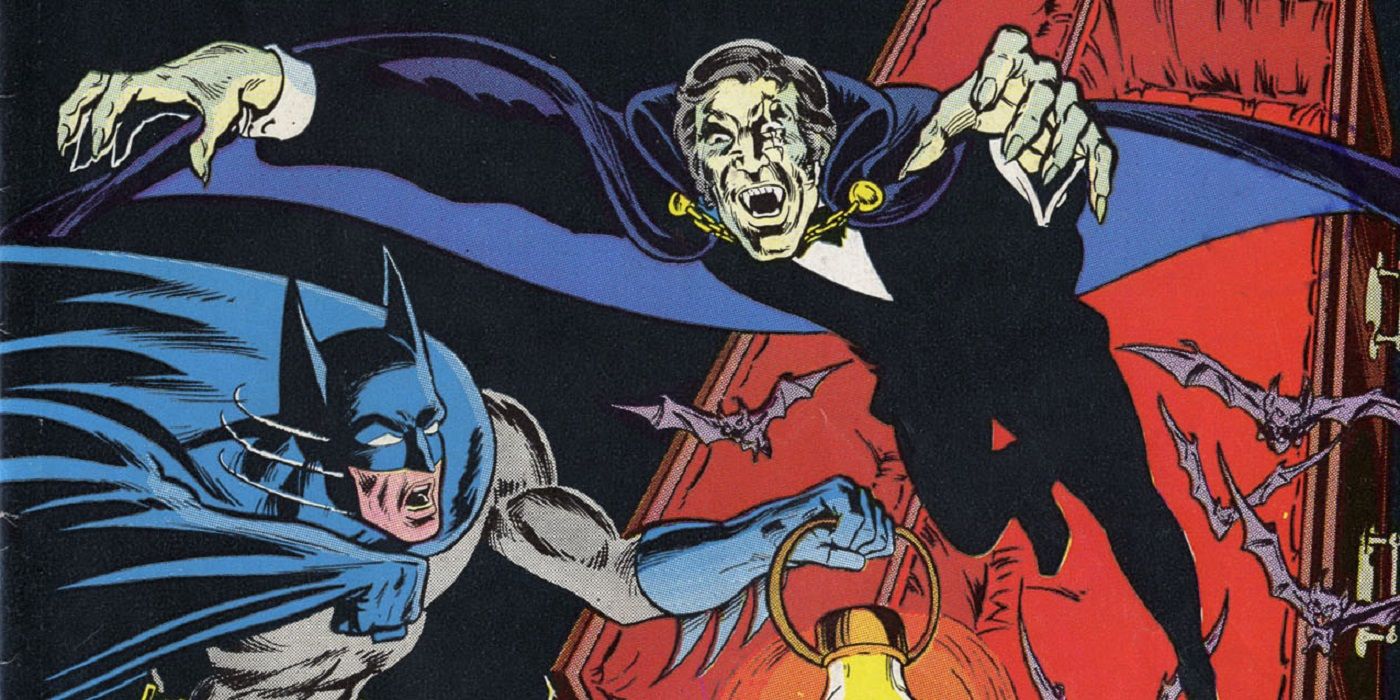 In the latest Comic Book Legends Revealed, find out which iconic comic book artist hasn't been credited for their detailed layouts of a classic Batman vampire comic book story.
Welcome to Comic Book Legends Revealed! This is the eight hundred and fifty-fifth episode where we take a look at three comic book legends and determine if they are true or false. As usual, there will be three posts, one for each of the three captions. Click here for the first caption of this episode. Click here for the second caption of this episode.
NOTE: If my twitter page reached 5,000 subscribers, I'll be doing a bonus edition of Comic Book Legends Revealed that week. Good deal, right? So go follow my Twitter page, Brian_Cronin!
COMIC CAPTION:
Bernie Wrightson did uncredited layouts for "Heart of a Vampire" in Detective comics #455.
STATUS:
True
One of the unsung Batman comics of the 1970s is the 1975 Halloween issue of Detective comics, Detective comics #445 and its main story, "Heart of a Vampire".
Besides being a very good Elliot S vampire story! Maggin, the issue was also notable because it was actually a tryout for the great Mike Grell. Grell, you see, had more than made a name for himself at DC as a Legion of Super-Heroes artist, but every time an artist starts to excel on a feature, you always wonder if he could be used on the highest priority titles. , and even though this was nominally just a one-off gig for Grell, the possibility of doing more work on a main DC hero was definitely in the air when he did this number and, of course, he spent his quasi -audition brilliantly, and in 1977, he draws Batman #287-290.
RELATED: How a Missed Art Fix Broke a Fascinating Squadron All-Star Hawkman Sequence
Amusingly, however, when he was interviewed by Dewey Cassell's Mike Grell: Life is drawing without an eraser of TwoMorrows, Grell noted that they had yet to discuss hsi's work on Batman in the interview, "Probably for good reason. I always felt like I did shitty work on Batman during that I was on the book." Grell is wrong, but it's probably fair to say that his Batman work probably wasn't as good as his other work. It was still very good.
However, Grell went on to note about Detective comics #455, probably Grell's most acclaimed Batman issue, "There was one particular story that had to do with a vampire, and that was probably the best of my 1970s Batman, but I can't really give me credit because the story was mapped out and broken down by Bernie Wrightson."
RELATED: How has Thanos become a regular Iron Man villain?
This is fascinating information because Wrighton is not credited at all in the story…
Grell explained further:
Bernie had thumbnails of every page, and by thumbnails I mean serious thumbnails. They were maybe two inches wide by three inches high, something like that, but so clearly drawn and the story told so beautifully in those tiny little panels that all I had to do was re-pencil its thumbnails and to do the finishing touches on the top. I followed his layouts on pretty much every panel, and got credit for it, and not Bernie, which I found really stinky.
Wrightson's homepage was then shown somewhere, maybe for a comic book convention?
It's truly amazing how detailed Wrightson's thumbnails were. How strange that it wasn't credited at all.
There's a bit more Grell on this particular issue that I'll save for another Comic Book Legends Revealed.
Many thanks to Mike Grell and Dewey Cassell for this great piece of comic book history (Michael Kronenberg and Michael Eury also covered this story in their excellent Companion to the Batcave from TwoMorrows as well)
DISCOVER A TV LEGEND REVEALED!
In the latest TV Legends Revealed – How did the sitcom Schooled deal with a breakup of its lead couple when it suddenly couldn't use half of the couple in an episode?
MORE LEGENDS!
OK, that's it for this episode!
Thanks to Brandon Hanvey for the Comic Book Legends Revealed logo, which I actually don't even have anymore, but I used it for years and you still see it when you see my old columns, so that's fair enough to thank him again, I think.
Feel free to (hell, please!) write in with your suggestions for future installments! My email address is [email protected] And my Twitter feed is http://twitter.com/brian_cronin, so you can also ask me for captions there! Also, if you have any correction or comment, feel free to email me as well. CBR sometimes emails me with emails they receive about CBLR and that's fair enough, but the fastest way to get a fix is ​​to just email me directly, honestly. Corrections don't bother me. Always better to get things accurate!
This is my most recent book, 100 Things X-Men Fans Should Know And Do Before They Diefrom Triumph Books.
If you want to order a copy, order it here gives me a referral commission.
This is my second book, Why does Batman wear shark repellent? The cover is by Kevin Hopgood (the man who designed the War Machine armor).
If you want to order a copy, order it here gives me a referral commission.
Here is my comic book legends (130 legends. — half of them are reworked classic legends that I featured on the blog and the other half are legends never published on the blog!).
The cover is by the artist Mickey Duzyj. He did a great job on it…
If you want to order it, you can use this code if you would like to send me a bit of a referral fee.
Follow Comics Should Be Good On Twitterand on Facebook (Also feel free to share Comic Book Legends Revealed suggestions on our Facebook page!). Not only will you receive updates when new blog posts appear on Twitter and Facebook, but you'll also get original content from me!
See you next time!!