Did Marvel Sue DC for Introducing a Supergirl?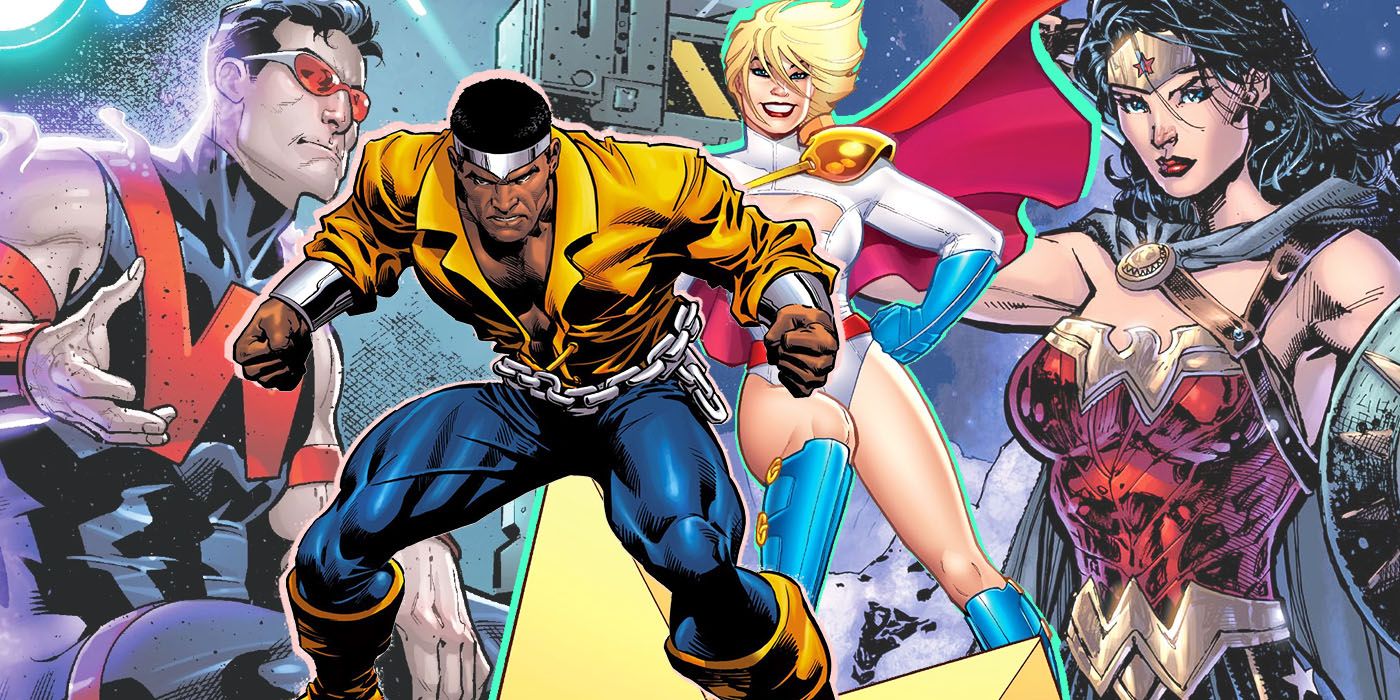 In the latest Comic Book Legends Revealed, find out if Marvel really tried to sue DC over Power Girl's debut, due to her pre-existing Power Man persona.
Welcome to Comic Book Legends Revealed! This is the eight hundred and twenty-fourth episode where we examine three comic book legends and determine if they are true or false. As usual, there will be three posts, one for each of the three captions. Click here for the first part of this episode's captions. Click here for part two of the captions from this episode.
NOTE: If my twitter page reached 5,000 subscribers, I'll be doing a bonus edition of Comic Book Legends Revealed that week. Good deal, right? So go follow my Twitter page, Brian_Cronin!
COMIC CAPTION:
Marvel tried to sue DC after Power Girl was introduced
STATUS:
I go with false
In 1964 avengers #9 by Stan Lee, Don Heck and Dick Ayers, they introduced a new character named Wonder Man…
After the Masters of Evil gave him his superpowers (he has to get another treatment every day or he dies), they then had him join the Avengers so he could lead them into a trap. He did, but he felt bad about it and sacrificed himself to save the Avengers…
Stan Lee remarks to a fanzine (Cross #1) shortly after the issue was posted (transcript courtesy of Barry Pearl) that he originally intended to bring Wonder Man back soon after, but National Comics (DC) complained about it to him…
"We were planning on bringing him back, but we found out DC had a story about a year ago, about a robot named Wonder Man. I've never seen or heard of him myself. The head of National Comics wrote to us and informed us that he had used Wonder Man's name before, we didn't want to use anyone else's name, so just for that reason we're not bringing Wonder Man back. And besides, we can't, because we don't copy anyone."
Here is the Wonder Man from the Superman issue…
RELATED: Captain America's Sidekick & Marvel's Weirdest Superhero Team, Explained
Over the years, however, the story got twisted (probably Lee forgot himself) so that it was Wonder WOMAN that DC was crazy about, and that led to an interesting situation in 1975, when DC introduced Power Girl, the Earth-2 version of Supergirl, in All-Star Comics #58…
Jim Shooter, at the time, felt the Wonder Woman story was legit, recalling years later:
The story I heard back in the days of Stan and others was that in the early sixties DC went against Wonder Man because of Wonder Woman and threatened legal action if Marvel didn't stop not to use the word "Wonder" in character names. Wonder Woman is, and was, one of DC's premier licensing properties (although the book never sold very well), and it makes sense that DC would fight to defend the "Wonder" franchise.
So when DC introduced a "Power Girl" so soon after Marvel renamed Luke Cage "Power Man"…
Shooter then brought Wonder Man back to life…
RELATED: Superman Used to Fake His Vaccinations
However, there is a legend that Marvel threatened to pursue the introduction of Power Girl. Stan Lee was quoted in cartoon diary #42 saying, "I'm pretty annoyed about this. …I have to ask Marvel's attorney – she's supposed to take legal action on this and I haven't heard anything. I don't like not the idea…. You know, years ago we released Wonder Man, and [DC Comics] sued us because they had Wonder Woman, and… I said okay, I'll stop Wonder Man. And all of a sudden they have Power Girl. Oh man. How unfair."
A. First of all, as I noted earlier, Lee's contemporaneous statement suggested that it was NOT Wonder Woman that was the problem, B. DC didn't sue Marvel and C. Like the comments of Lee were made in 1978, two years after Power Girl debuted, obviously Marvel wasn't going to prosecute two years after the alleged 'infringement', so Lee, who was speaking at a convention when he made those comments, was just doing a little swelling at the time. There was no trial.
DISCOVER A FILM LEGENDS REVEALED!
In the latest Legends Revealed movie – did Gene Roddenberry keep trying to get a Star Trek move that involved traveling to Kennedy's assassination?
MORE LEGENDS!
OK, that's it for this episode!
Thanks to Brandon Hanvey for the Comic Book Legends Revealed logo, which I actually don't even have anymore, but I used it for years and you still see it when you see my old columns, so that's fair enough to thank him again, I think.
Feel free to (hell, please!) write in with your suggestions for future installments! My email address is [email protected] And my Twitter feed is http://twitter.com/brian_cronin, so you can also ask me for captions there! Also, if you have any correction or comment, feel free to email me as well. CBR sometimes emails me with emails they receive about CBLR and that's fair enough, but the fastest way to get a fix is ​​to just email me directly, honestly. Corrections don't bother me. Always better to get things accurate!
This is my most recent book, 100 Things X-Men Fans Should Know and Do Before They Die, from Triumph Books.
If you want to order a copy, order it here gives me a referral commission.
This is my second book, Why Does Batman Wear Shark Repellent? The cover is by Kevin Hopgood (the man who designed the War Machine armor).
If you want to order a copy, order it here gives me a referral commission.
Here is my comic book legends (130 legends. — half of them are reworked classic legends that I featured on the blog and the other half are legends never published on the blog!).
The cover is by the artist Mickey Duzyj. He did a great job on it…
If you want to order it, you can use this code if you would like to send me a bit of a referral fee.
Follow Comics Should Be Good On Twitter and on Facebook (Also feel free to share Comic Book Legends Revealed on our Facebook page!). Not only will you receive updates when new blog posts appear on Twitter and Facebook, but you'll also get original content from me!
See you next time!
KEEP READING: The Strange Origins of Batman's Arkham Asylum, Explained
X-Men Artist Russell Dauterman Shares In-Depth Look At Jean Gray's New Costume
About the Author