Canadian National details KCS Springfield line improvement plans and traffic projections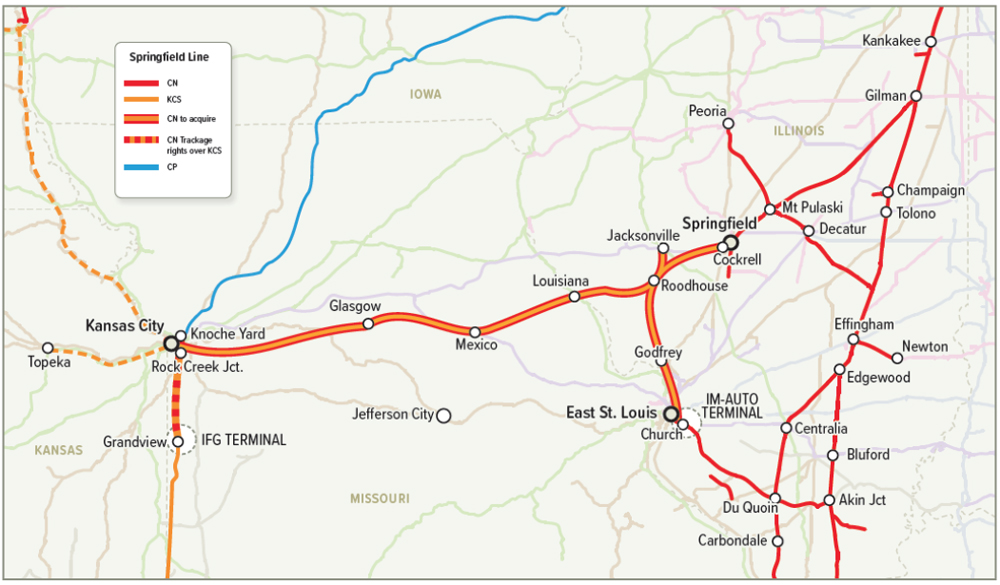 ---
WASHINGTON — Canadian National says its proposed acquisition of the Springfield Line from Kansas City Southern would allow it to divert 80,000 long-haul truck shipments annually to rail by creating a new route connecting Kansas City and St. Louis in Michigan. and Eastern Canada.
The traffic projection — 33% more truck diversions than Canadian Pacific and KCS are considering from their proposed merger — is included in environmental documents CN filed Tuesday with federal regulators.
CN's so-called sensitive application, which will ask the Surface Transportation Board to condition approval of the CP-KCS merger on the divestiture of the KCS Springfield line, is due to be filed by the end of the month.
If federal regulators accept the divestiture proposal, CN says it will spend $250 million over three years to upgrade KCS's former Gateway Western railroad and connect it to its former Illinois Central Gilman subdivision.
In Illinois, CN is proposing to construct a new siding and two siding extensions. In Missouri, CN would extend five sidings and relocate and expand a fifth. In the KCS yard in East St. Louis, CN would add 5,000 feet of track for automobile traffic and 6,000 feet for intermodal traffic. At the KCS International Freight Gateway intermodal terminal south of Kansas City, CN would add 6,600 feet of track for automotive operations and 20,000 feet to support its intermodal operations.
"With CN's investment in the Springfield Line, CN is not only preserving the Springfield Line as a competitive route option, but upgrading it to a faster route with improved transit times," said writes CN in its file. "This will benefit intermodal and automotive customers. CN can move new traffic efficiently on the Springfield lines with about two new trains per day. CN estimates it can get more than 80,000 long-haul trucks off the road each year, including trucks between Kansas City and Chicago. This is a greater reduction in truck traffic than what CP/KCS expected to achieve for their entire merger. »
CN lost the battle for KCS last year and now argues that the KCS Springfield line should be divested because it parallels CP's own KC-Chicago route. CN is proposing to give CPKC carriage rights to access customers on the Springfield line so that no local customer loses competitive options. CN would also grant CPKC air travel rights to interchange with other railroads in East St. Louis, Illinois.
CP disagrees and told federal regulators last month that CN's divestiture request was its latest effort to "delay or disrupt the CP/KCS transaction."
CN's proposal to divest the line is "without merit," CP argued in a Jan. 28 filing. [see "CP says CN's request …," Trains News Wire, Jan. 31, 2022]. There is no precedent for forcing an online sale as a condition of an end-to-end merger that results in no loss of competition, CP wrote.