Bad politics and bad economy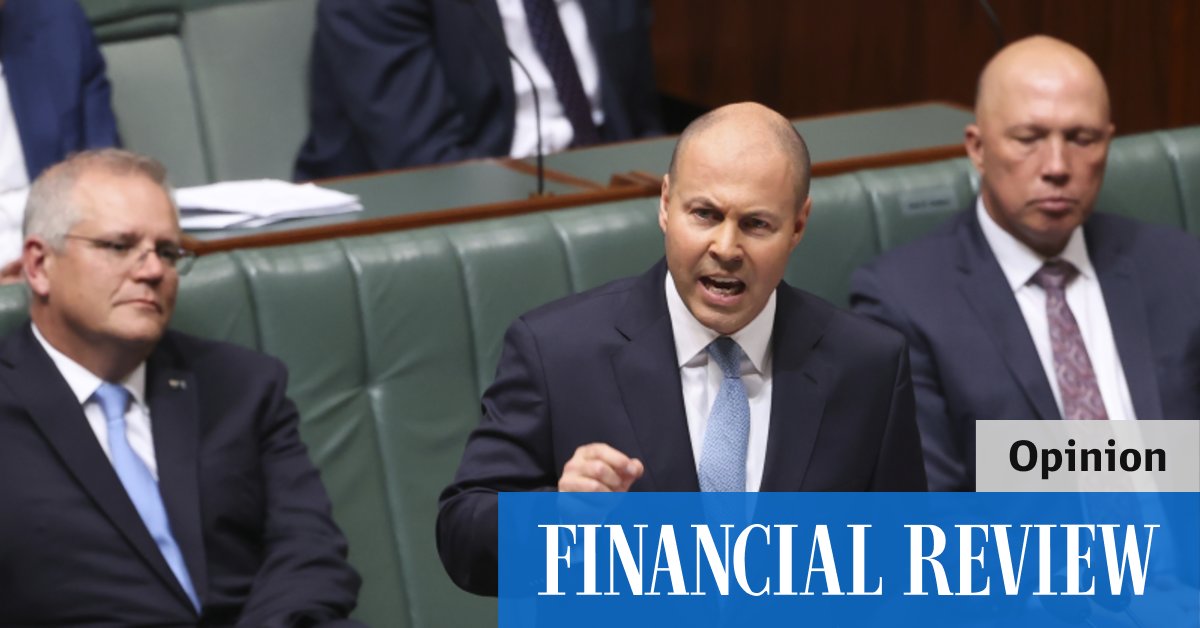 William Chandler, Surrey Hills, Vic

Self-funded retirees always get a gross deal
For years, thrifty, self-funded retirees have been sacrificed on the altar of abnormally low interest rates, currently earning less than 1% on safe term deposits.
Now Treasurer Josh Frydenberg in his latest budget tells us he has something good for us. We can take a lump sum from the equity in our homes, accumulating interest at 4.5 percent. The government borrows between 0.01 percent and 1.6 percent (10-year bonds), earning a return of at least 300 percent on the money loaned. Thanks for nothing, Josh. First the RBA destroys our ability to earn a fair return on our savings, now you are trying to rip us off.
Mark Engelbrecht, Floreat, WA

We need more choice, more transparency
It is ironic and disturbing that Australia's economic future is limited to a simple choice between the prescriptions of Friedman and Keynes.
There is a lack of transparency in budgeting as "jobs, jobs, jobs" when in reality it is "benefits, benefits, benefits".
The experience of decades shows that the combination of relying on economic growth and the so-called "cash splash" at the heart of this federal budget is not the answer to Australia's economic, ecological and social shortcomings.
This combination of growth and cash and, for too many other years, growth and austerity has failed to create an economy focused on innovation, prosperity for all, or ecological sustainability.
This has left Australia too dependent on resource exports, a price taker and vulnerable to China.
It keeps around 50 percent of the population in poverty or subject to unacceptable levels of economic insecurity.
It keeps Australia on a trajectory that results in global warming and the disruption of several ecological systems.
The need for an alternative economic strategy for the 21st century is urgent and has never been greater.
There are many other choices available, ranging from the sustainability by design propositions of Kate Raworth to the holistic redistribution strategy of Thomas Piketty and many others.
More choice, more transparency might be a good idea as we face the unique challenges and opportunities of the 21st century.
Stewart Sweeney, North Adelaide, SA

Commit to net zero by 2030, not 2050
In Treasurer Josh Frydenberg's budget speech, one issue arose – for the wrong reasons: climate change. Frydenberg had nothing new to offer, simply repeating the familiar words of Prime Minister Scott Morrison.
"Australia is playing its part in the fight against climate change, having delivered on its 2020 commitments and on track to meet and exceed our 2030 target. Australia is on the path to net zero and our target is there. arrive as soon as possible, preferably by 2050. We will do so with a… technology-driven approach. Technology, not taxes.
There was no commitment to net zero emissions by 2050, as has been made by around 70 countries and all Australian states and territories.
When will the Morrison government recognize the reality that the nations of the world must commit to net zero emissions not by 2050, but by 2030, if we are to avoid the worst effects of global warming?
Douglas Mackenzie, Deakin, ACT

Conflicts over marginal tax rate policy were avoidable
The treasurer missed a golden opportunity to propose personal tax cuts.
This should have happened as part of the pandemic-induced fiscal stimulus, along with a much lower and better-targeted increase in cash flow and JobKeeper payments. The scenario was obvious.
So now there will be a political struggle that could have been avoided ("Stage 3 Tax Cuts on a Collision Course with Politics", May 13). Personal income tax rates must be balanced with the corporate tax rate and pension tax breaks. The battle must continue.
Ensuring that marginal personal income tax rates do not exceed the corporate tax rate on annual income up to $ 300,000 should be a primary goal.
This can be achieved by halving imputed tax credits for all superannuation funds, judiciously taxing retirees, and funding elderly care from their assets.
A much stronger and fairer economy will result.
The working population should not finance retirees.
Graeme Troy, Wagstaffe, NSW

Higher education still suffers
Higher education was left to bleed. Why is COALition so afraid of educated people and their critical thinking?
Henry Haszler, Eltham, Vic