An Obscure DC Comic Character Was Sued for Defamation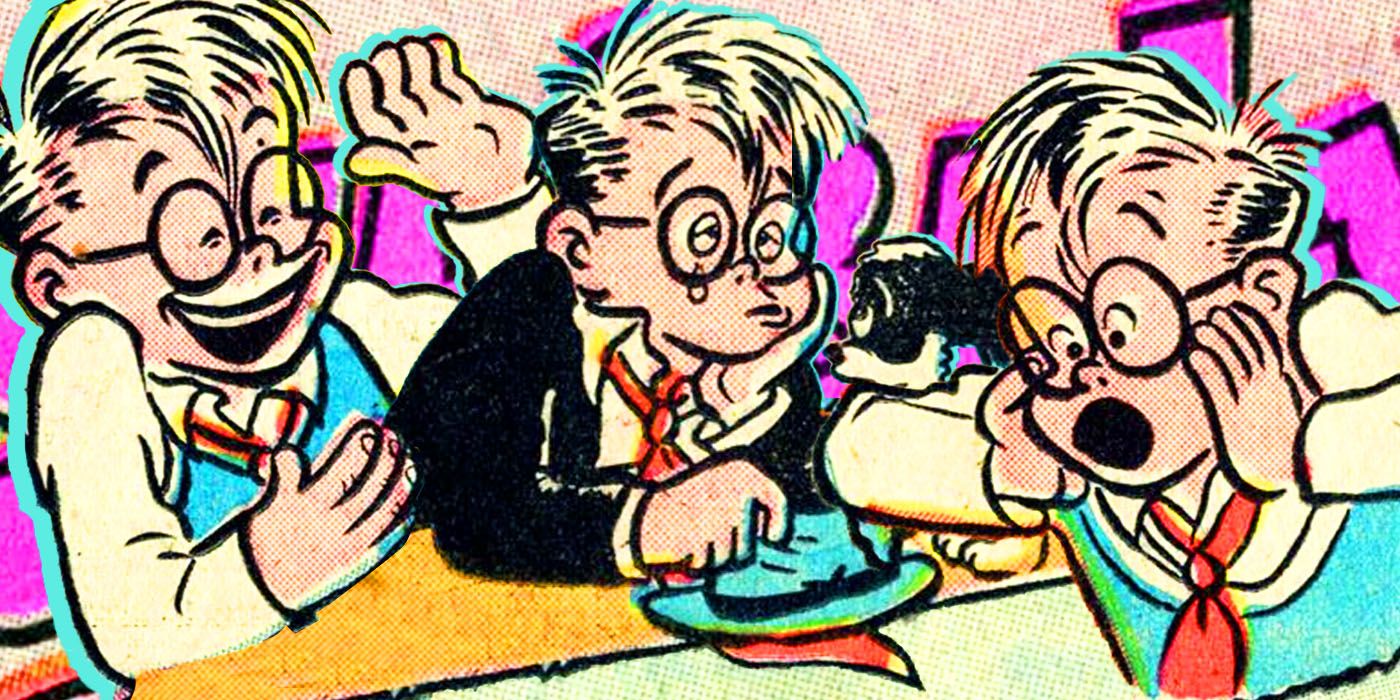 In the latest Comic Book Legends Revealed, find out how an early DC Comics character was sued for defamation for an unusual reason!
Welcome to Comic Book Legends Revealed! This is the eight hundred and twenty-sixth episode where we examine three comic book legends and determine if they are true or false. As usual, there will be three posts, one for each of the three captions. Click here for the first part of this episode's captions.
NOTE: If my twitter page reached 5,000 subscribers, I'll be doing a bonus edition of Comic Book Legends Revealed that week. Good deal, right? So go follow my Twitter page, Brian_Cronin!
COMIC CAPTION:
DC character Scribbly led to the writer/artist being basically sued for defamation.
STATUS:
Real enough for a real one
By the way, let me point out the amazing job that CBR image artist Abshar did on this one. I didn't give him much to work with (not many great Scribbly images out there, especially not that would work for this topic) and he NAILED it. Excellent work, Abshar!
An interesting aspect of the early days of the comic book industry is that there really weren't many people who knew what they were doing. A big part of that was that it was so hard to make money in comics at first. Major Malcolm Wheeler-Nicholson was one of the most forward-thinking people in all of comic book history and all he got for his troubles was so much debt he ended up getting taken out his own company just before Superman made his debut in action comics #1 in 1938. Until then, most of the comic book money was in the world of reprinting established comic books (the original comics were starting to make money, don't get me wrong, they were just not as successful as the reprinted comics). Doing original stuff was perceived as, in effect, a cover band in a bar saying, "We're going to play our own stuff tonight," in other words – almost always a REAL bad idea. Indeed, "Oh, you think you're going to find something better than Dick Tracy?" "Oh, you're just gonna make a better comic than Joe Palooka? Good for you."
The success of Superman changed everything, as people realized there was money in the original comic book characters. One of those people who realized this was Max Charles Gaines, one of the most important figures in the history of comics, because it was Gaines who first pushed the idea of ​​the period of the comic. Gaines, however, was thinking of REPRINT comics and through his work at the McClure Syndicate and Dell Comics, Gaines worked in the world of newspaper comics and then turned those comics into comics.
Throughout this period, Gaines employed Sheldon Mayer, who actually started working for Major Malcolm Wheeler-Nicholson and was therefore involved in the very first original comics. Again, however, the money wasn't there, so Mayer went to work in the world of reprint comics. Mayer's main task for Gaines at Dell was to take the comic strips from the newspaper and cut and paste them so that they fit into the format of the comic strip. However, there weren't always enough comics to fill all the pages of the comics, so Mayer was allowed to make short comics to fill in the gaps.
So in 1936 popular comics #6 (about half a year before Detective comics #1 came out), Mayer debuted his children's cartoon character, Scribbly (which was obviously based on Mayer)…
RELATED: The Strange Origins of Iron Man's Second Armor War
After the success of Superman made it clear that the original comics were where they were (and Major Malcolm Wheeler-Nicholson was right all along), Gaines used his connections to the comics syndicate and a agreement with National Comics' Jack Liebowitz to launch All-American Comics, which was first published as a sort of part of National Comics. Gaines brought Mayer with him and of course, in the middle of All-American Comics #2 (a mix of popular reprints to which Gaines licensed and original content), Mayer brought Scribbly with him to All-American Comics…
The feature continued for the next five years, with a comedic superhero, Red Tornado, also becoming a major part of the feature.
However, the tape almost never made it to National/DC, as it almost got sued early on!
RELATED: Why Could Ghost Rider Lift Thor's Hammer?
Early on, Mayer worked his old boss, cartoonist Ving Fuller, into the Scribbly continuity as Ving Russell…
In his diary in May 1937Mayer wrote "Now I gotta be a big shot – got a real lawsuit on my hands – Ving Fuller, my old boss – the guy who taught me everything I know about comics, and who I 'used as a character in my 'Scribbly' strip – because I thought he'd get a big kick out of it, the publishers sued, and I for libel! I'm going crazy ! Afterwards, if I have to use real life characters, I go to disguise them so that no one recognizes them! … In the meantime, all the work I've done on Scribbly for the next three issues of the magazine must be dropped and redone, leaving out Ving, who is an important character. – I'm starting a brand new sequel, and I'll probably be up all night for the next two months or so."
Fortunately, a few weeks later, Mayer wrote, "Gave Ving $100 – He won't sue."
So Mayer restarted Scribbly, starting his origins as a boyish cartoonist from scratch.
MORE LEGENDS!
OK, that's it for this episode!
Thanks to Brandon Hanvey for the Comic Book Legends Revealed logo, which I actually don't even have anymore, but I used it for years and you still see it when you see my old columns, so that's fair enough to thank him again, I think.
Feel free to (hell, please!) write in with your suggestions for future installments! My email address is [email protected] And my Twitter feed is http://twitter.com/brian_cronin, so you can also ask me for captions there! Also, if you have any correction or comment, feel free to email me as well. CBR sometimes emails me with emails they receive about CBLR and that's fair enough, but the fastest way to get a fix is ​​to just email me directly, honestly. Corrections don't bother me. Always better to get things accurate!
This is my most recent book, 100 Things X-Men Fans Should Know and Do Before They Die, from Triumph Books.
If you want to order a copy, order it here gives me a referral commission.
This is my second book, Why Does Batman Wear Shark Repellent? The cover is by Kevin Hopgood (the man who designed the War Machine armor).
If you want to order a copy, order it here gives me a referral commission.
Here is my comic book legends (130 legends. — half of them are reworked classic legends that I featured on the blog and the other half are legends never published on the blog!).
The cover is by the artist Mickey Duzyj. He did a great job on it…
If you want to order it, you can use this code if you would like to send me a bit of a referral fee.
Follow Comics Should Be Good On Twitter and on Facebook (Also feel free to share Comic Book Legends Revealed on our Facebook page!). Not only will you receive updates when new blog posts appear on Twitter and Facebook, but you'll also get original content from me!
See you next time!
KEEP READING: Did Marvel Sue DC Over Introducing a Supergirl?
KEEP READING: The Marvel Superhero Who Was Created For A Gadget – That Was Never Used
What Batman: Ego Tells Us About Pattinson's Dark Knight
About the Author