A classic Man-Thing character named after writer David A. Kraft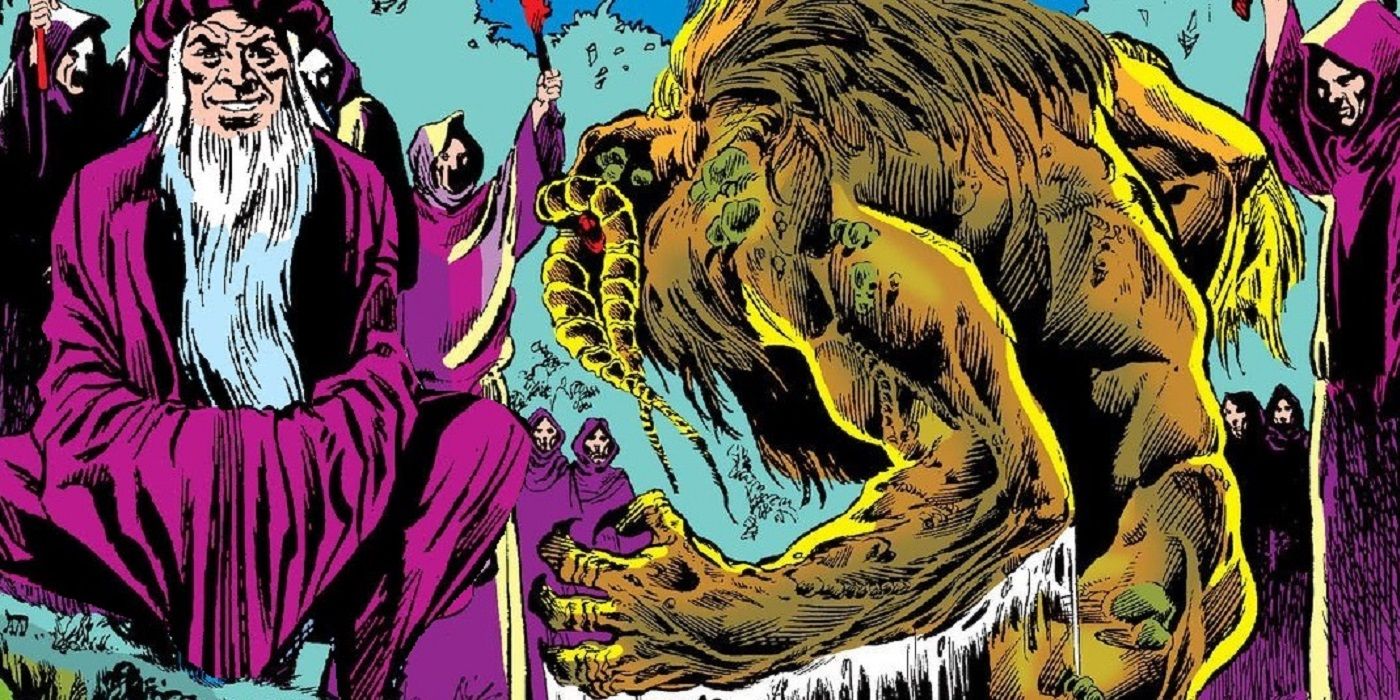 In the latest Comic Book Legends Revealed, find out how Steve Gerber used a supporting Man-Thing character (who played a major role in bringing Howard the Duck into Marvel Comics history) as a subtle tribute to the late one. great David A. Kraft.
Welcome to Comic Book Legends Revealed! This is the eight hundred third episode where we take a look at three comic book legends and determine if they are right or wrong. As usual, there will be three posts, one for each of the three captions. Click here for part 1 of this episode's captions.
NOTE: if my twitter page reached 5,000 subscribers, I will be doing a bonus edition of Comic Book Legends Revealed that week. Good deal, right? So will follow my Twitter page, Brian_Cronin!
Keep scrolling to keep reading
Click the button below to start this article in quick view.
COMIC LEGEND:
Steve Gerber named a supporting character in Man-Thing in honor of David A. Kraft.
STATUS:
True
We tragically lost an incredible member of the comic book community recently with the sad COVID-related death of David A. Kraft, famous writer of The Defenders and Savage She-Hulk for Marvel and publisher of Comics Interview, l 'one of the best comic book magazines of all time (I literally just used an old comic book interview issue as the basis for an article on Mark Gruenwald just a few weeks ago. I quote him frequently . It is an incredible resource).
Kraft started dating Marvel and getting gigs around 1973. He befriended many writers working there at the time, including Steve Gerber, whom Kraft would eventually follow in The Defenders.
RELATED: Thor: Did Jack Kirby Really EVER Draw Odin The Same Twice?
In an excellent interview with Kraft by Alex Grand and Jim Thompson for Comic Book Historians, Kraft joked about what it was like spending time with Gerber and sometimes helping him come up with last-second comic book plots:
Gerber was good at cliffhangers and terrible at recovering. [chuckle] This is why each of us, at different times, would go out to dinner with him, because he would say, "With my back against the wall, I have to have a plot tomorrow, and I have no idea what I'm doing." I will… I did this. And we were going to go out and brainstorm ideas and stuff. It was fun times, but it was also the deadlines. A lot of what you asked me about stories was, "Well, you need something tomorrow!" And it's like, "Oh, shit." [chuckle]
It's quite possible that one of those times Kraft helped Gerber with a plot was during Gerber's iconic run on the feature Man-Thing in Adventures Into Fear, because in Fear # 14 (art by Val Mayerik and Chic Stone), we met a new character named Dakimh the Enchanter, who interacts with Man-Thing and Jennifer Kale (Gerber introduced Jennifer to give the show a character perspective) …
Five issues later in Fear # 19 (by Gerber, Mayerik and Sal Trapani), Dakimh reappears …
He arrives to inform them that there is a problem with the Realities Link and various other realities are kind of crashing down and he has to help them fix everything …
RELATED: Did Marvel Almost Make an AC / DC Comic Book Series?
Well, it turns out that one of those alternate dimensions that crossed the Earth a bit was, well, you know, a world of all the ducks! And so, the world met Howard the Duck!
Dakimn ends up perishing during the storyline, but like all great comic book characters (and, okay, all comic book character periods), he's returned here and there over the years.
What I didn't know, however, and I imagine a lot of other people didn't, was that Dakimh was named AFTER David A. Kraft. Peter B. Gillis, fellow Marvel writer and friend of Kraft wrote a great tribute to Kraft on Facebook and there he revealed:
[W]When Steve Gerber was writing Man-thing, in the story that gave us Howard the Duck, the secret behind the special-named wizard was something Mr. G confessed to me (and others) that I will use today.

Dakimh the wizard?

David Anthony Kraft is my hero.

And always will be.
What an exceptional tribute. Thanks, Peter, for the information, and thanks to David A. Kraft for decades of excellent comic book writing and comic book information.
KEEP READING: Has DC's Karate Kid Accidentally Drawn the Wrong Way For Years?
DISCOVER A REVEALED TELEVISION LEGEND!
In the latest TV Legends Revealed – Did Full House almost fire one of the Olsen twins before season 6?
MORE LEGENDS!
OK, that's it for this episode!
Thanks to Great Comic Book Database for this week's covers! And thanks to Brandon hanvey for the Comic Book Legends Revealed logo, which I don't even use on the CBR editions of this review, but I do use them when I collect them all at legendsrevealed.com!
Don't hesitate (damn it, I beg you!) To write with your suggestions for future installments! My email address is [email protected] And my Twitter feed is http://twitter.com/brian_cronin, so you can ask me for captions there too!
Here is my most recent book, 100 Things X-Men Fans Should Know And Do Before They Die, from Triumph Books.
If you would like to order a copy, order it here gives me a referral commission.
Here is my second book, Why Does Batman Carry Shark Repellent? The cover is from Kevin Hopgood (the guy who designed the War Machine armor).
If you would like to order a copy, order it here gives me a referral commission.
Here is my comic book legends book (130 legends. – half of them are reworked classic legends that I featured on the blog and half of them are legends. never published on the blog!).
The cover is by the artist Mickey duzyj. He did a great job on it …
If you want to order it, you can use this code if you want to send me a little fee for reference.
Follow Comics Should Be Good on Twitter and on Facebook (also, feel free to share Comic Book Legends Revealed on our Facebook page!). Not only will you receive updates when new blog posts appear on Twitter and Facebook, but you will also get original content from me!
See you next time!
X-Men puts Marvel's most important mutant relic in DANGEROUS hands
About the Author